Forgive me, I meant to ring in the New Year on my blog with some black eyed pea recipes. (You know how it is, the holidays hijack your life and it's not until they're over that you discover that present you wrapped and meant to send to your aunt.) As you might have guessed from the last post on making Cream Carton Cottages for Christmas, we usually have a lot of black eyed peas around the house this time of year. I guess I've always been comforted by them, having some southern roots in my background. Traditionally, this humble dish was served at New Year's dinner to insure prosperity in the coming year. On that note: I thought it was interesting that all forms of black-eyed peas (dried and canned) had been wiped-out of inventory over at an affluent Westport Connecticut Stop & Shop on New Year's Eve afternoon.  I was finally able to locate some at a much less upscale market.
So here's what I do: I cook my black eyed peas in a big pot with smoked pork hocks, drain them and divide the beans in half. I use part of them with the meat from the hocks in a side dish (served on January 1st). The remaining beans find their way into black eyed pea chili. Both dishes hit the spot on these frigid winter nights.
Traditional Black Eyed Peas
2 pounds dried black eyed peas
4 cups vegetable stock
3-4 smoked pork hocks
4 cloves garlic
1 tsp salt
1 tsp black pepper
2 bay leaves
1 Tbs olive oil and  1 Tbs butter
1 diced onion
1 diced green bell pepper
2/3 cup diced celery
1Tbs fresh thyme leaves
In a very large stock pot, cover peas with 3-4 inches of water. Soak overnight 8 hours or use rapid method: Bring peas to a boil for 1 minute. Cover and remove from heat. Let stand 1 hour. With either method, rinse peas well and cover with vegetable stock, pork hocks, garlic, salt, pepper, bay leaves and enough water to cover again by about two inches. Bring mixture to a boil and reduce heat. Simmer for 1 – 1 1/2 hours or until peas begin to fall apart. Drain peas and divide in half (reserve half for following chili recipe). Remove hocks from broth and peel away fat. Pull out any meat and dice. Set aside. In a large saucepan, melt butter and oil and sauté onion bell pepper, celery and thyme until tender. Stir in diced pork and peas.
6-8 servings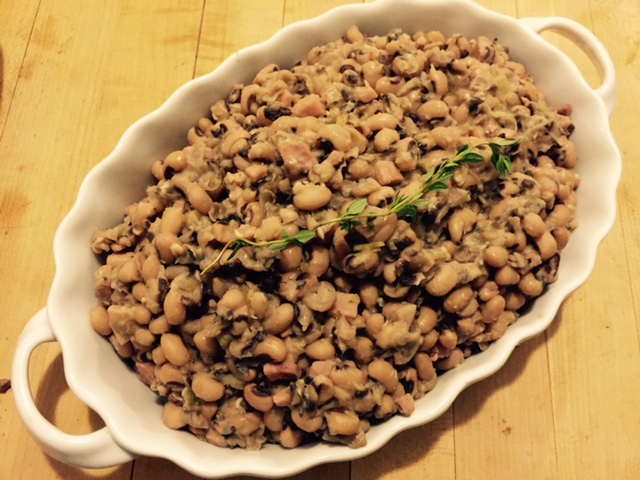 Black Eyed Pea Chili
2 pounds ground beef or turkey
1/2 medium onion, chopped
2/3 cup chopped celery
1 green bell pepper, chopped
1-2 cloves crushed garlic
1 tsp salt
1/2 tsp black pepper
4 Tbs chili powder (mild or hot)
15 oz can crushed tomatoes
15 oz can tomato sauce
2 Tbs ketchup
2 bay leaves
reserved black eyed peas (about 3 cups)
or 2 15 oz cans of black eyed peas.
Brown ground beef in a large skillet. Drain off excess fat, allowing enough to sauté vegetables. Add onion, celery, green bell pepper, garlic, salt, pepper and chili powder. Sauté until tender and moisture has evaporated. Transfer mixture into a large saucepan or stockpot and add tomatoes, tomato sauce, ketchup, bay leaves and black eyed peas. Bring to a boil and reduce to a low simmer cover for 10 minutes. Remove cover and continue simmering for another 30-40 minutes or until desired consistency.
4-6 servings