For over a week now, we've been bracing for a nor'easter to come up the coast and give us cabin fever (I'm one of those that simply hates being involuntarily housebound). This event just happened to coincide with Jim's decision to go on a low-carb diet for Lent and my good friend Lee convincing me that I must buy an Instant Pot. Year after year, I've been cooking multiple corned beef briskets in several slow cookers before a St Patrick's Day party. The process took most of the day, so the prospect of cooking one in under an hour had me intrigued.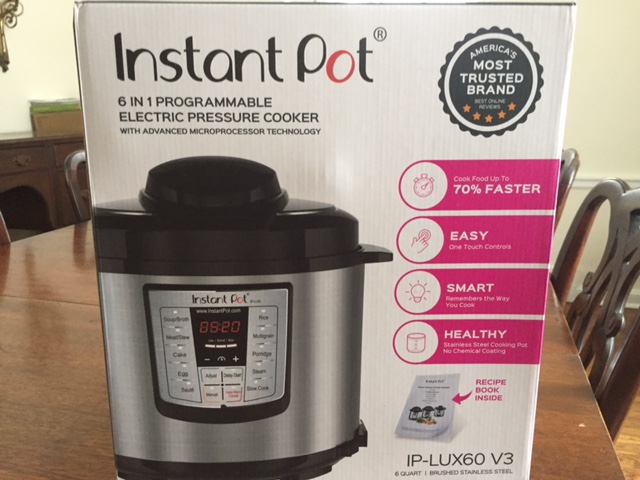 As I braved the pre-blizzard crowd at Stop & Shop, I caught the corned beef fever that was spreading through the store. The prices had been slashed (possibly due to fear of a power failure) and that had motivated just about everyone at check out to turn a snow day into a premature St Patrick's Day.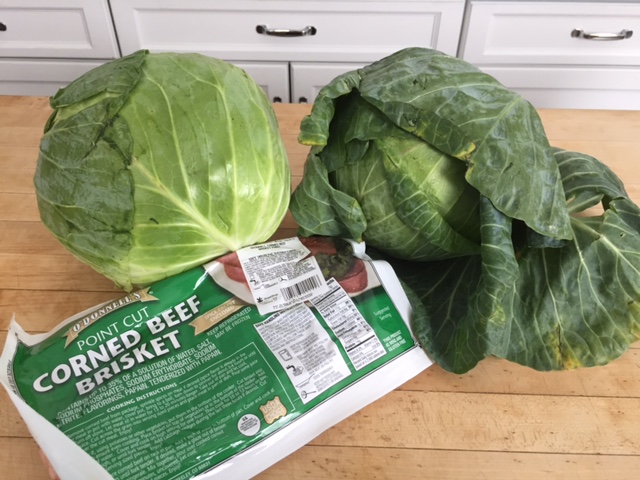 But what could I do this year to compensate for the lack of potatoes and soda bread with the traditional meal? Hmmm— the Hungarian idea of stuffing cabbage came to mind in keeping with the great American melting pot. I once tried this years ago but I had added seasoned bread crumbs or potatoes to the filling. This time it had to be strictly low-carb vegetables.
So I filled my Instant Pot with the brisket (don't forget the little seasoning packet), whole onions, celery and a big red bell pepper, sliced in half and seeded. I then added about 1 1/2 cups of beef broth (be sure to check brands for sugar– you don't want it).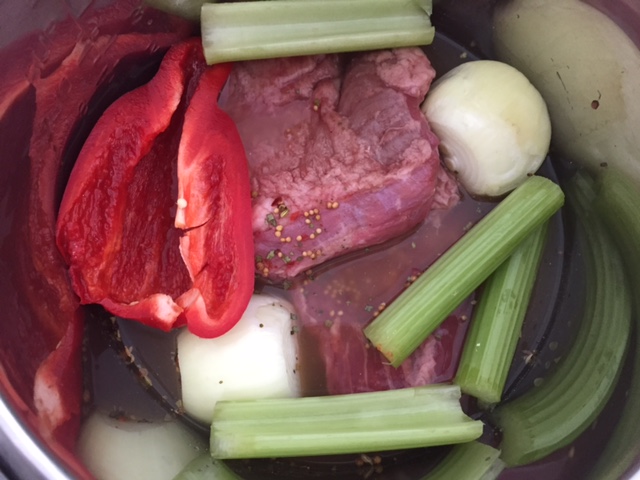 Once the Instant Pot was sealed, I let it pressure cook for 45 minutes and then allowed it to cool down. The end result is as tender as if took hours.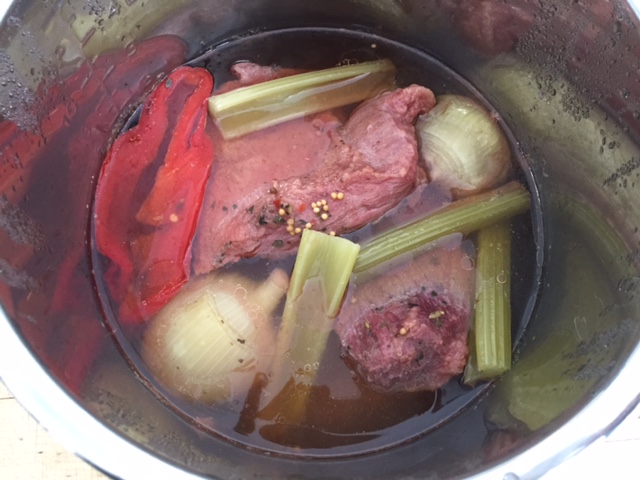 First, skim out the vegetables with a slotted spoon and drain in a collander. Chop up with a knife (these will be kind of mushy — that's OK).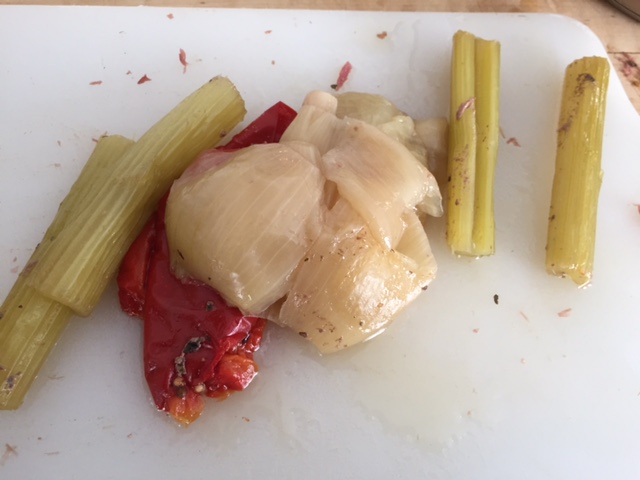 Remove the meat and slice across the grain and then chop.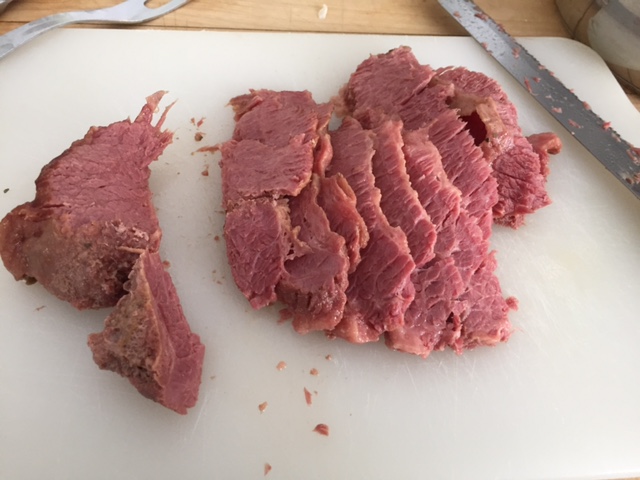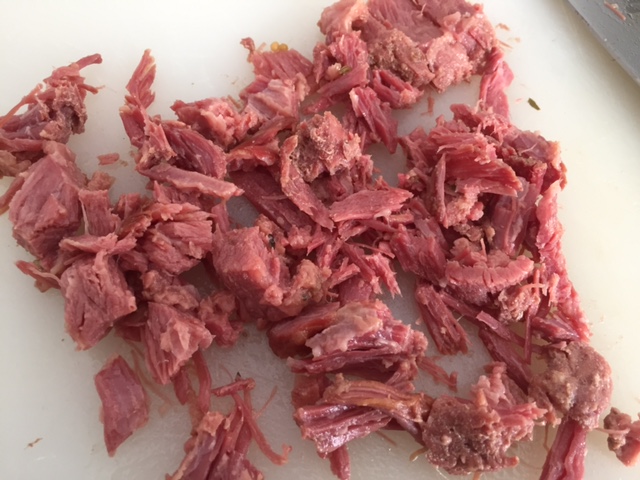 Next mix chopped beef with the onions, celery and bell pepper together in a bowl and set aside.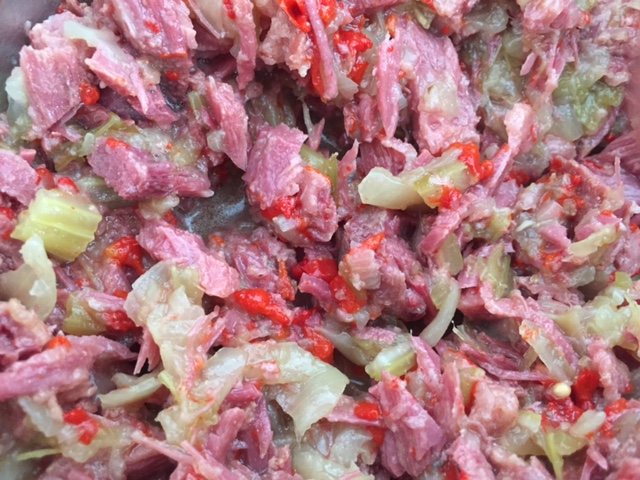 Peel away outer cabbage leaves and blanch for about a minute in boiling water.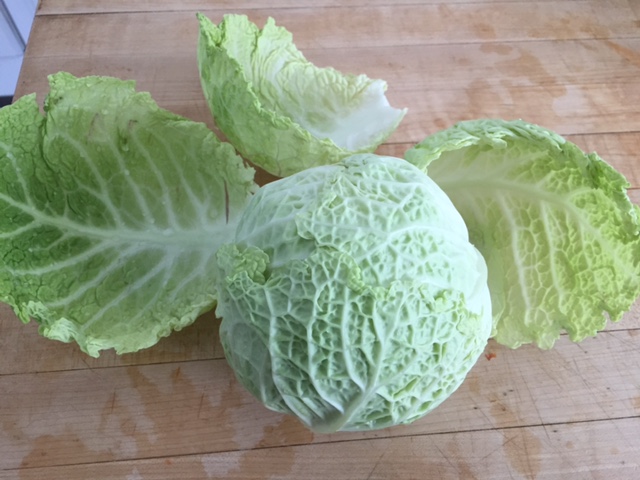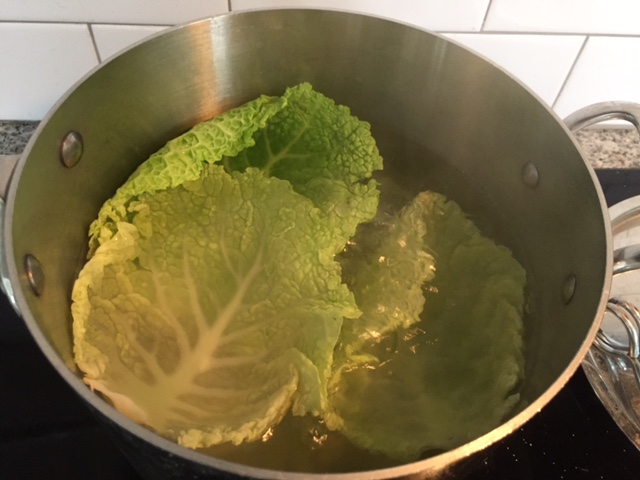 (Note: I use two cabbages so I have enough leaves and cooked the centers for another dish.) Allow to drain on a tray.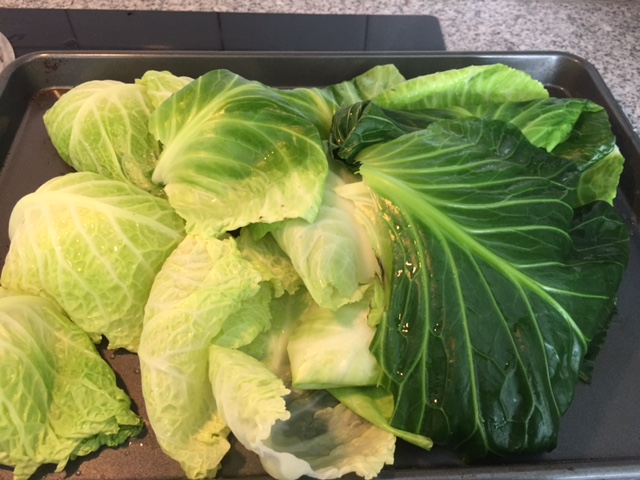 Spoon corned beef mixture into leaves and roll up.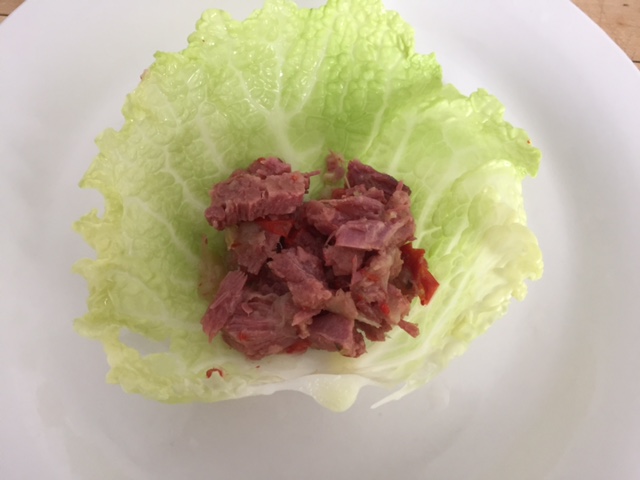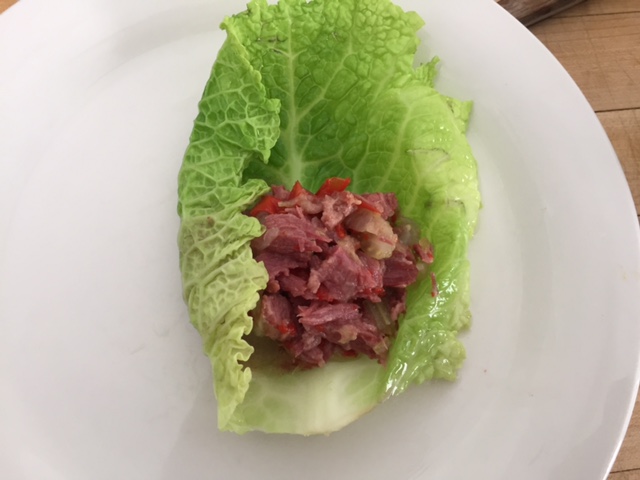 Place seem side down in a baking dish.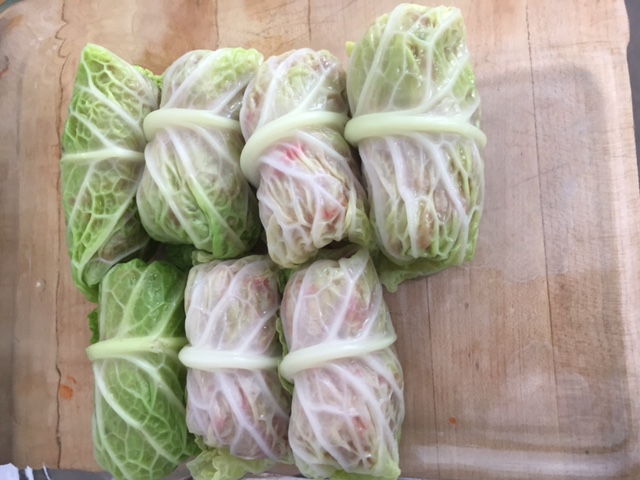 At this point, I get even more "fusionesque"after pouring the reserved corned beef broth over the rolls (liquid should not completely cover the tops). I sprinkle them with  grated Parmesan cheese to give them a nice brown crunch after baking in the oven at 375° for 25 to 35 minutes.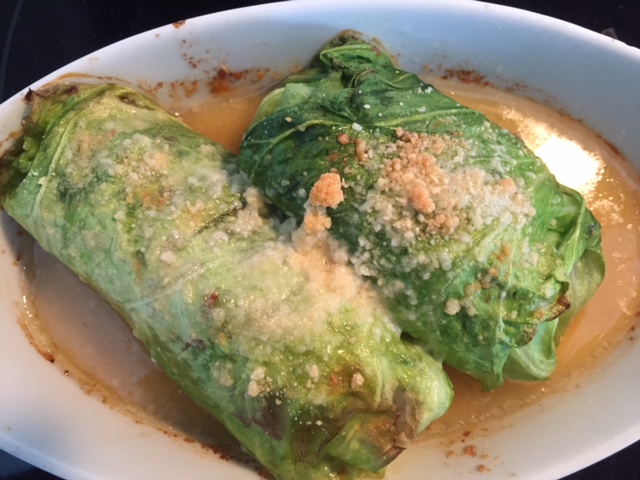 For a rich but low-carb mustard sauce: Combine 1/2 cup mayonnaise with one Tbs brown mustard and 1/2 cup heavy cream. Add chopped chives and salt and pepper to taste. Whisk together and warm over a pan of hot water.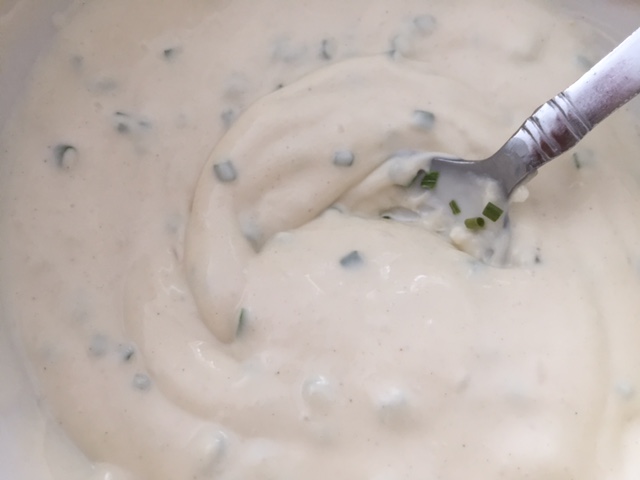 Serve cabbage rolls with sauce.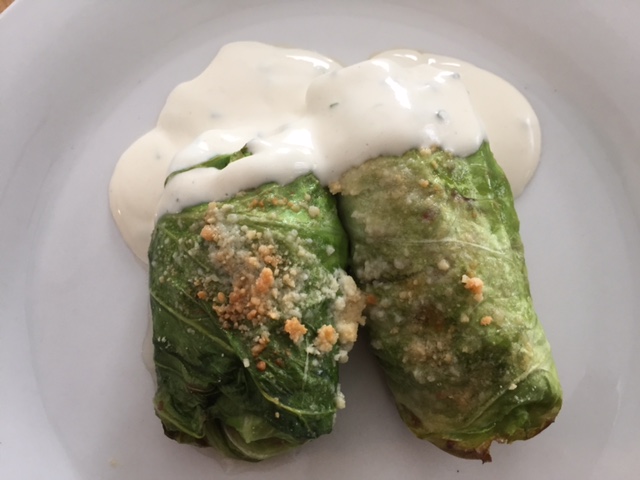 OK– That was dinner on March 14th…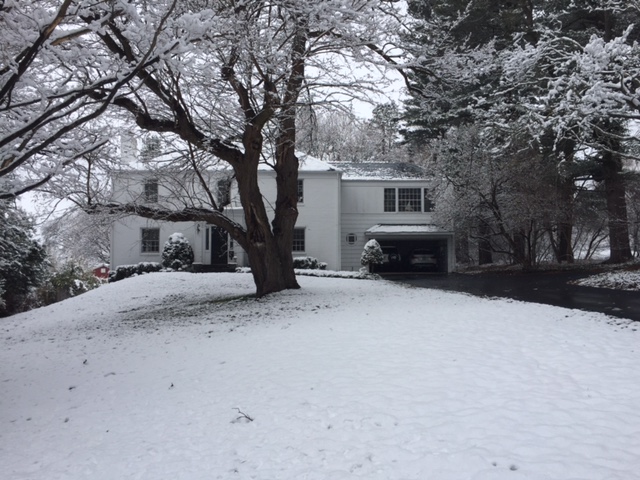 March 15th: Snow wasn't as deep as expected but a wet sloppy mess and very heavy to clear off the drive. Now for day two of the countdown to St Patrick's Day. Remember those leftover "cabbage cores" that I had after peeling off the outer leaves for cabbage rolls? I chopped them up and put them in my Instant Pot.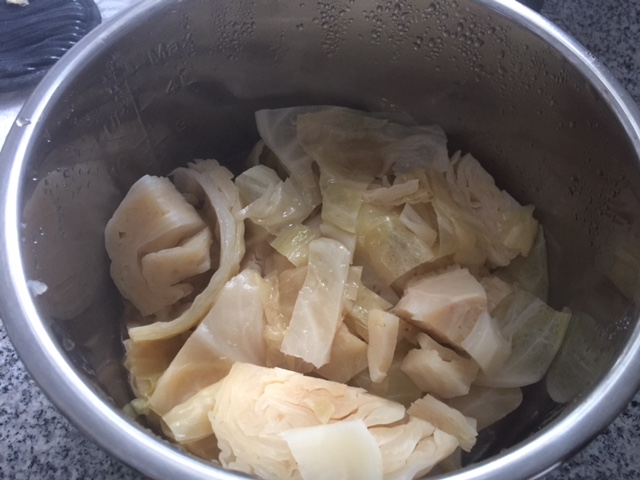 Covered them with some reserved broth.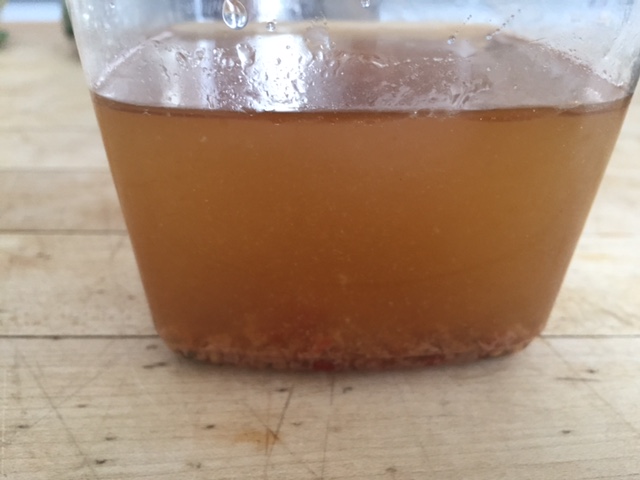 Sealed the Instant Pot and cooked for about 20 minutes. After cooling down I pureed the cabbage.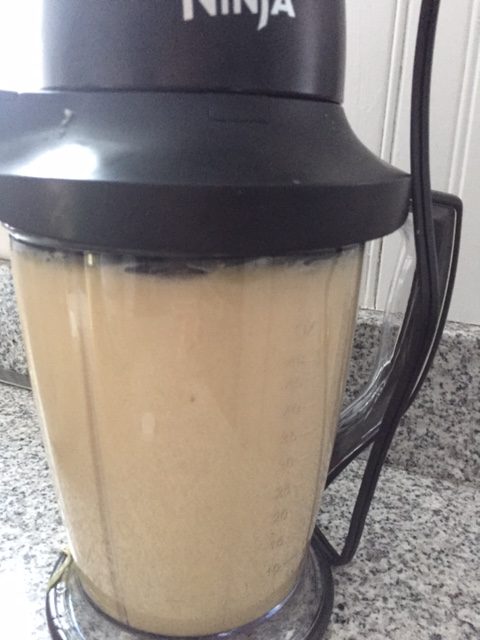 Then I spread it into a casserole and topped it with some grated Swiss and Parmesan Cheese.
Baked in the oven for 35-45 minutes until golden brown and bubbling.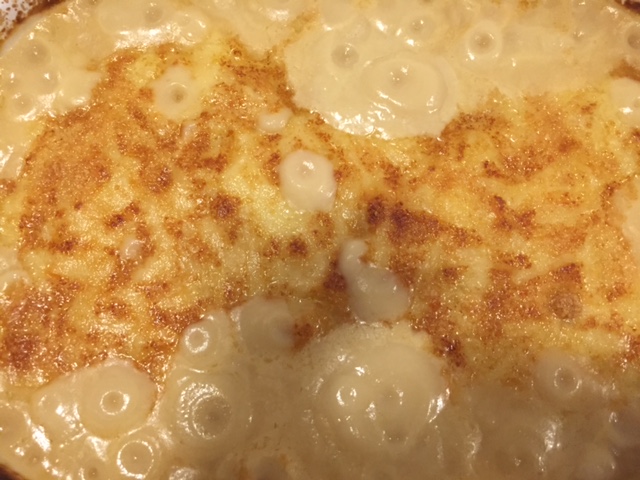 That night we served it with sausages purple cauliflower and asparagus.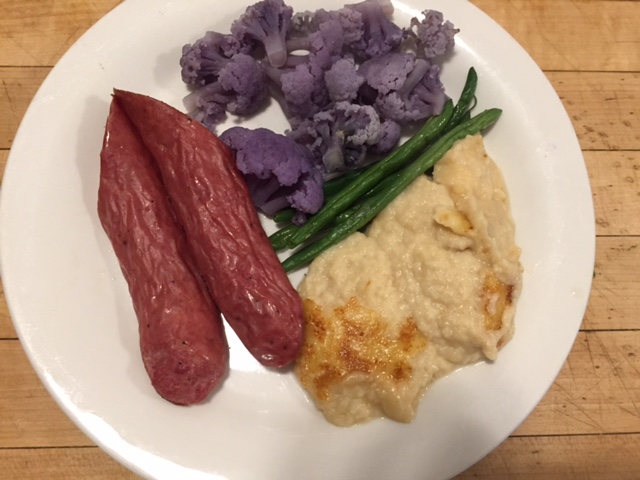 Admittedly, I should have bought some Irish bangers but in the spirit of fusion cuisine I found some bratwursts in the freezer and they paired perfectly.
So now that it's officially St Patrick's Day, I'll have to dream up something else low carb out of corned beef. Hey, anyone up for a Reuben omelet with sauerkraut and Russian dressing?