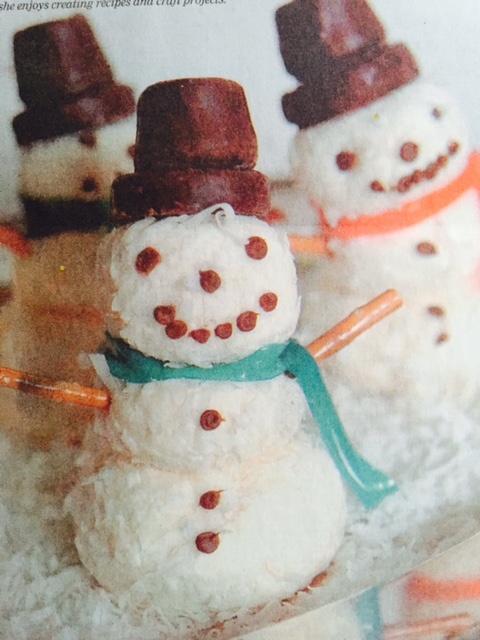 I'll admit I'm sentimental (not about snow storms, they drive me nuts!) but about the first kid's column I ever wrote for The Connecticut Post.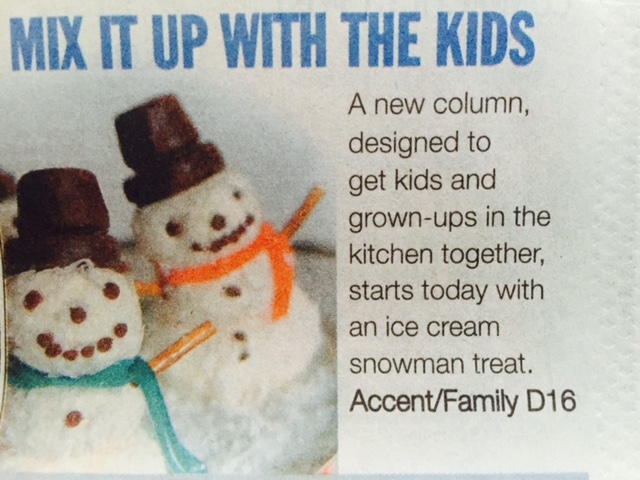 Years ago, I was very excited the Saturday it was coming out. It was a monthly column, a whole full page on recipes and crafts for children. Naturally, the calendar begins in January and I thought ice cream snow men made the perfect project: Something to do when you're cooped-up with your kids on a snow day. Only problem was… it was springlike weather all month!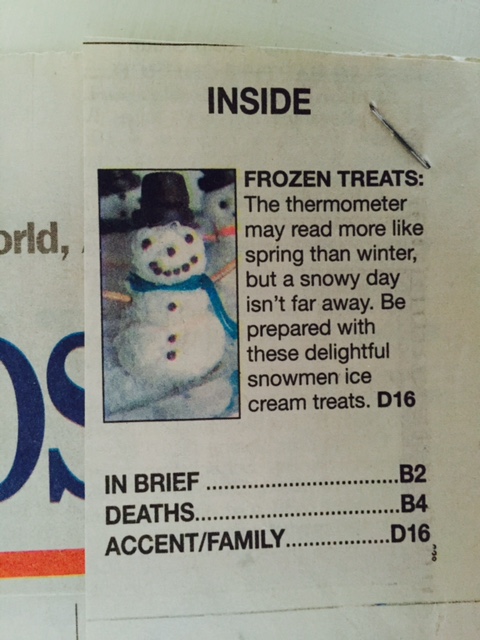 I almost ran out of  month waiting for a really good blizzard to re-publish my old January column on this blog and here the storm is turning to rain. Truth is, I couldn't be happier!
So stock up on ice cream and coconut the next time the media is predicting snowmaggedon and  here's the transcript from the article below:
You're up an hour early listening for school cancellations. You call the snowplow guy and his message box is full. The car is somewhere out there underneath a snowdrift. You'd like to pull a warm, cozy blanket over your head and hibernate but when the weather outside is frightful— so are the kids! Relax… the best cure for kiddy cabin fever is to occupy them with a new and memorable activity. Once you've heard that winter storm warning (it's coming, it's coming), when you're out raiding the supermarket for bread and milk, just pick up a few extra ingredients for sweet and savory snow men. Even if the blizzard is a bust, you'll be prepared for the next snow day.
Frosty Ice Cream Snow Men
(Note: This recipe will make about six, more or less depending on the air content of the ice cream)
1/2 gallon vanilla ice cream
Shredded coconut (at least 2 cups in a shallow pan or plate) Miniature chocolate chips
Fruit roll candy (in strips)
6 chocolate covered mint patties
6 chocolate bon bon type candies
Toothpicks. Full size and mini-size ice cream scoop (very useful to have-available at cookware shops)
For each snowman: Roll two large scoops of ice cream and one small scoop in coconut. (Place scoops on a foil lined tray in freezer, while making the others) Stack one large scoop on top of the other and stack the head on top of that. Use chocolate chips to make eyes, nose, mouth and buttons. Cut strips of fruit roll candy and wrap around the neck of snowman for a scarf. Make a bowler hat out of the chocolates by spearing a toothpick through the mint patty and the bon bon so that the bon bon becomes the crown and the mint patty is the brim, secure in place on head. Keep frozen until ready to eat