For a cookbook author, the holidays bring on a lot of pressure. Just like everyone else, I have a life outside of the kitchen and that life gets pretty demanding between Thanksgiving and New Year's. With Christmas as the big star on the horizon, that's when you pull out all the stops and bake the most demanding recipes for your friends and family. Well, yes and no…
Of course, I loved the childhood ritual of cookie making from a family heirloom cookbook . But as an adult, I honestly don't enjoy rolling out endless balls of  dough amidst a snowstorm of flour. Yes, even food writers have reindeer stick to the counter and break Santa's leg on the baking sheet. And why go through all that trouble for every batch of goodies you are called on to deliver? It's one thing to share your hand crafted cookies around the fire on Christmas Eve. It's another to watch all of the kids in the choir scarf them down in five minutes.
So here's what I do (and I'm letting you in on a BIG secret). I keep it simple while still making something special. This year I started a "Candy Cane Brownie Factory". These became an overnight sensation in my circle and yet they are embarrassingly easy! (That is easy for everyone, embarrassing for a food writer.)
The one challenge is to start out early collecting candy canes as the red striped ones sell out fast for decorating trees. By mid December, they were already scarce. In fact, I've been stealing them off my tree tonight to bake a batch for New Year's Day. Try to avoid green and red stripes on the same candy canes. You probably know from mixing red and green paint in kindergarten that it turns to mud. You don't want that color in your frosting!
Begin by crushing 6-8 oz of candy canes in a plastic bag. I'm using an ice cream scoop for a mallet but many tools will work including a food processor as long as you don't over do it and crush them to a powder.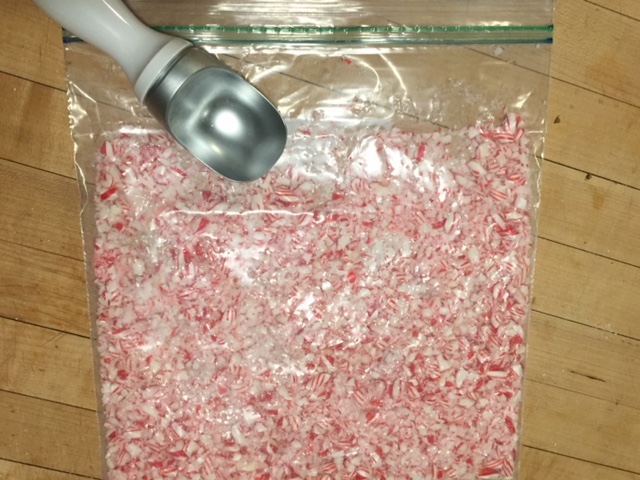 Next I prepare a box of CHEWY fudge brownies according to package directions. ).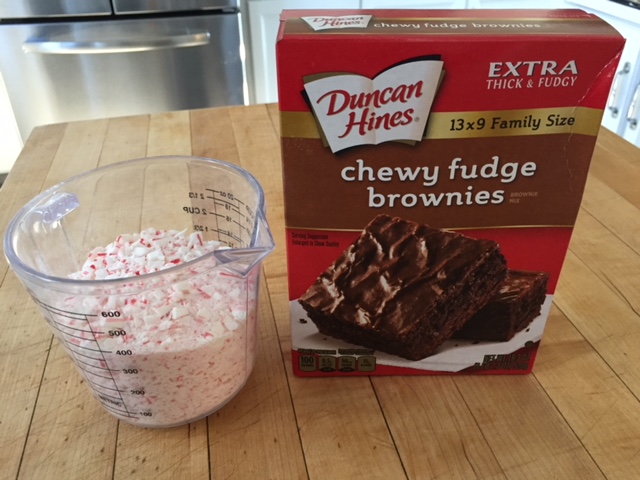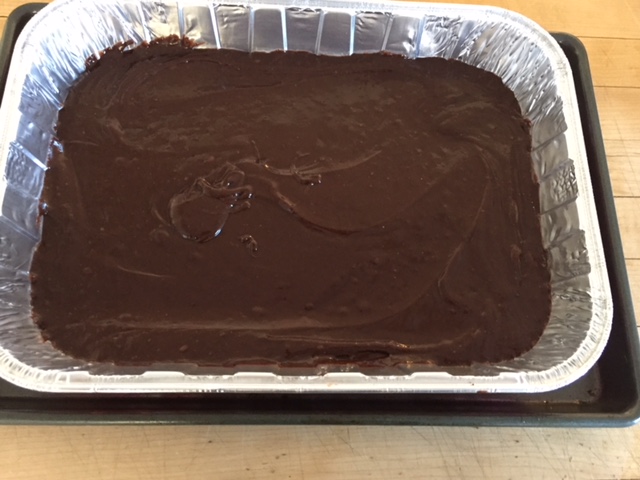 Sprinkle 3 Tbs of crushed candy canes over batter and bake in a 9″ x 13″ foil cake pan following the time table provided. (This varies with brands.)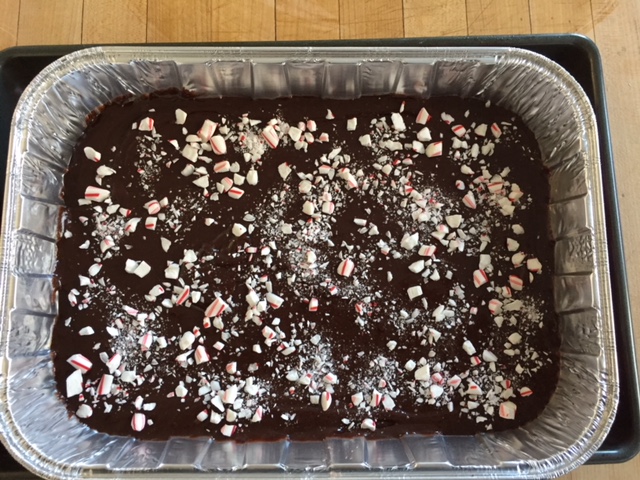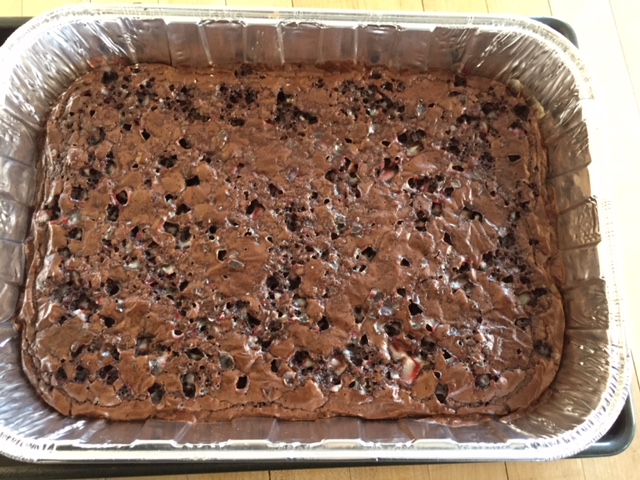 Cool about an hour. Combine 3 Tbs of soft butter in a bowl with 3 Tbs of canned vanilla buttercream frosting in a glass bowl.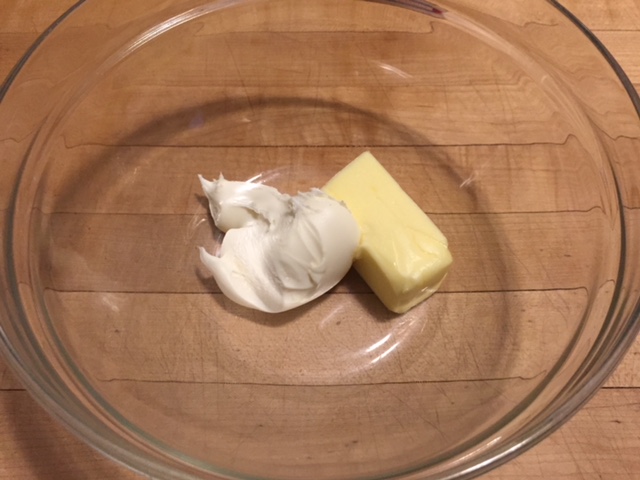 Melt in microwave for about 30 seconds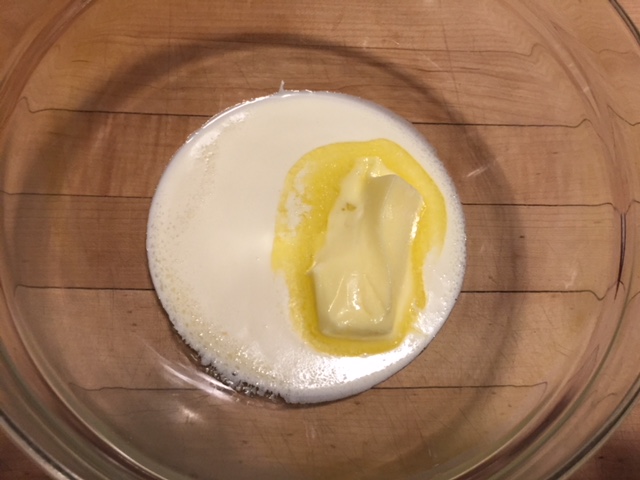 Blend in remaining frosting until smooth and creamy along with half of the remaining crushed candy canes. Spread over brownies and sprinkle with the rest of crushed candy canes. (Tip: for pinker frosting, add the crushed candy first to the warmed frosting before stirring in the remaining frosting. For whiter frosting, add the candy at the end.)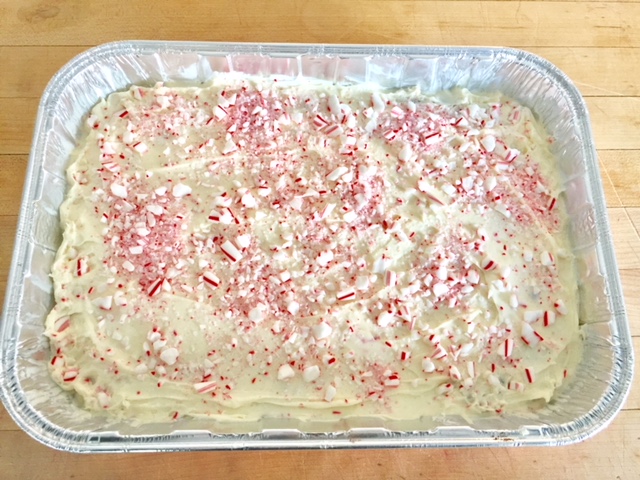 At this point you can present these brownies in their baking container un-sliced or cut them up and package in two 9″x 9″ pans as gifts.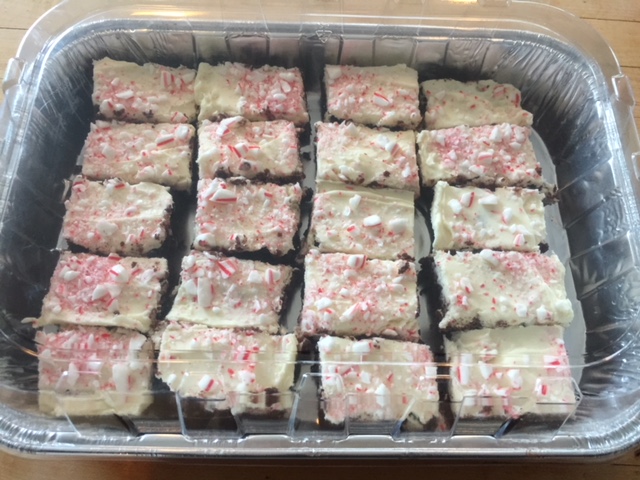 Any way you slice them– They'll disappear fast!
Happy New Year!