"In the air there's a feeling of Christmas… Soon it will be Christmas Day!" Maybe that should be your cue that there's still time to trim your tree with some hand made silver bells. The materials are really simple and so is the technique. These are the kind of ornaments you'll enjoy pulling out year after year or giving as gifts to friends and family. The bells are made out of a durable, air hardening clay, trimmed with gossamer silver wired ribbon. I was tying these together the other night while listening to Jimmy Stewart in "It's a Wonderful Life" . I just couldn't resist jingling away when the classic line came on : "Every time a bell rings, an angel gets his wings".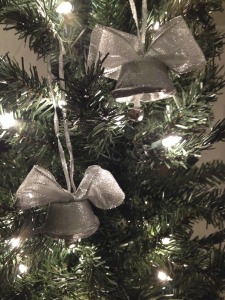 Materials:
1, 1.2 oz package of DAS white air hardening modeling clay
2 mini muffin trays (12 cups each)
Plastic straw
1 can chrome spray paint
1 can silver glitter spray paint
Aluminum foil
15 yards, 1/4" silver wired ribbon
8 yards 1-1/2″ silver wired ribbon
24 jingle bells
8 silver glitter pipe cleaners
Scissors, yardstick
Divide clay into 24 equal sections and roll into balls. Place each ball into a muffin cup and press into sides with a hollow spot in the middle (similar to forming tart shells). Use straw to pierce a hole in the bottom of each clay cup. Allow to air dry for at least 3 days. Carefully twist clay cups out of muffin cups and place on a tray to dry another 24 hours.
Cover two baking sheets with foil. Place clay cups open side up on foil. Spray with chrome spray paint and allow to dry. Turn over on other side foil and spray with silver glitter paint and allow to dry.
Cut 1/4 ribbon into 24, 22" lengths. Cut 1- 1/2" ribbon into 24, 12" lengths. Cut pipe cleaners into quarters. For each bell: String bell on to 1/4" ribbon and fold in half . Tie in a knot about 1- 1/2 " from bell to form a clapper. Fold pipe cleaner section in half and tie just above firth knot. This will anchor the bell in place. Invert bell and string 1/4" ribbon ends through the hole. Fold a section of 1- 1/2 " ribbon into thirds and gather on top of bell. Tie a knot around the wider ribbon with the narrow ribbon to hold in place. Tie a knot at the end of narrow ribbons to make a hanging loop. Shape wired ribbon to make a bow.