It's officially autumn and I'd almost forgotten. Perhaps it was the humid, post-hurricane weather hanging over the Northeast. Then again, maybe I'm still adjusting to the loss of my mother just two months ago.  Regardless of the reason, my first reminder came from above: Apples in the curb on Old Battery Road.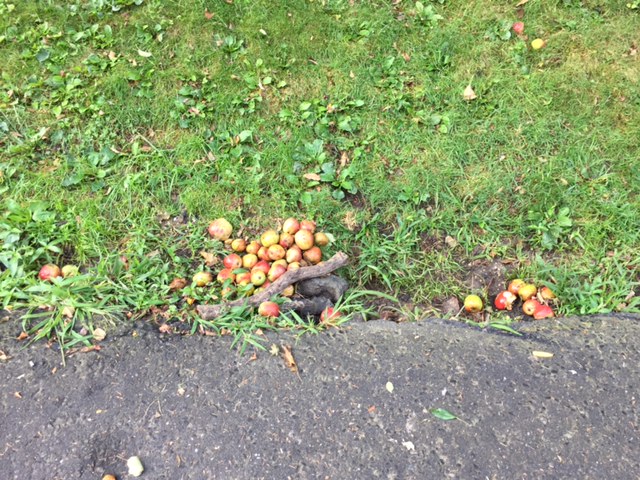 They never fall far from the neighbor's tree.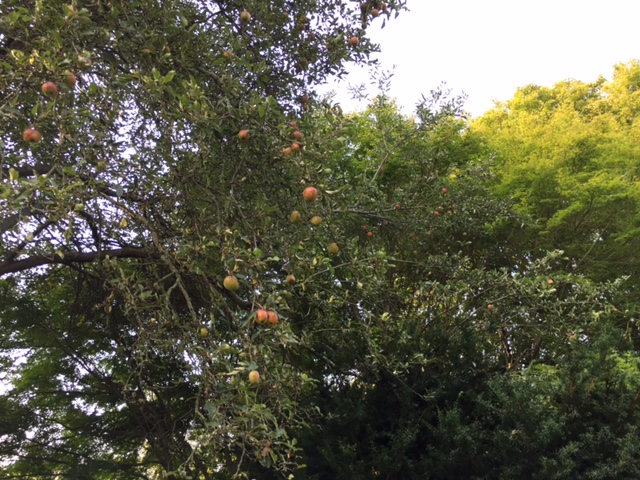 So now I have apples on the brain!
If this is a medical condition, I can think of worse. It's a pleasant feeling as it brings back a rush of fond memories from almost every chapter of my life. The first ones conjured up are from my childhood in Missouri. Fall was always ushered in by weekend drives in the country. The first would lead to an ancesteral apple orchard on the Connett Farm (My father was William Connett Boteler) outside of St Joeseph Mo. We would press our own apple cider and bring home basketfuls to make apple crisp and caramel apples.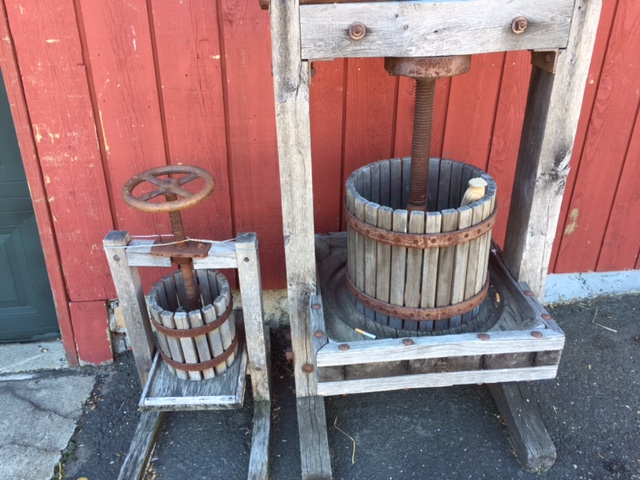 (these presses are similar to those at the Connett orchard)
The next weekend jaunt would be out to Stephenson's Apple Farm in Independance Missouri. The restaurant  was a legendary haunt for "Give 'em Hell", Harry Truman. In the crisp fall air, we'd spend hours on the patio of the The Cider Mill Lounge, patiently waiting for a table in the dining room to indulge in heavenly smoked BBQ and homemade apple fritters. (I passed the time watching adults downing apple daiquiris as if these were large 7-Eleven Icee Slurpees.) Sadly, this iconic dining destination no longer exists except in the hearts and minds of devoted fans. All that remains is this little recipe book that I treasure: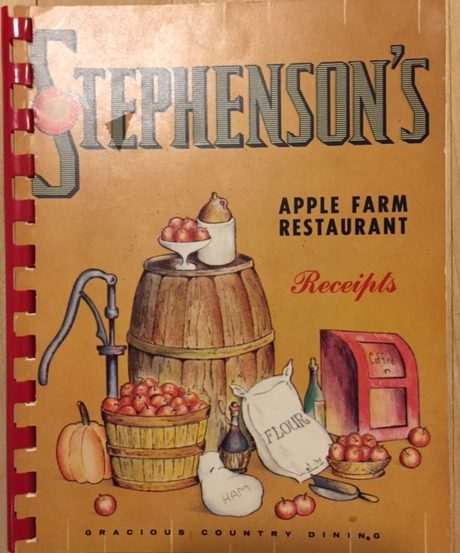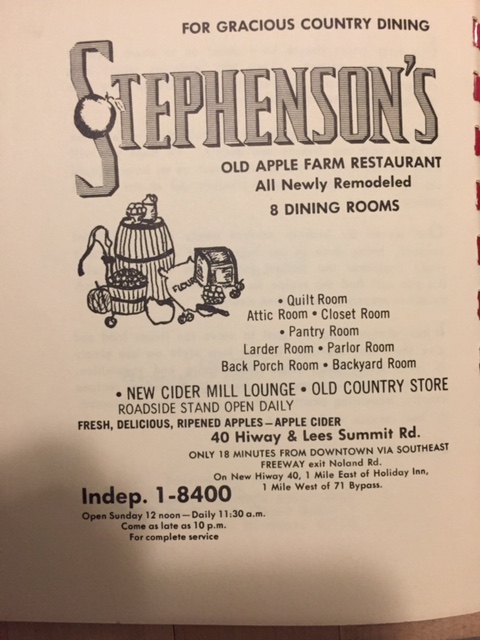 Fast Forward to life in Connecticut. It's a lot like Missouri in the fall from brilliant colored leaves and wild turkeys to apple season. Last week, I drove to Silverman's Farm in Easton on a quiet weekday .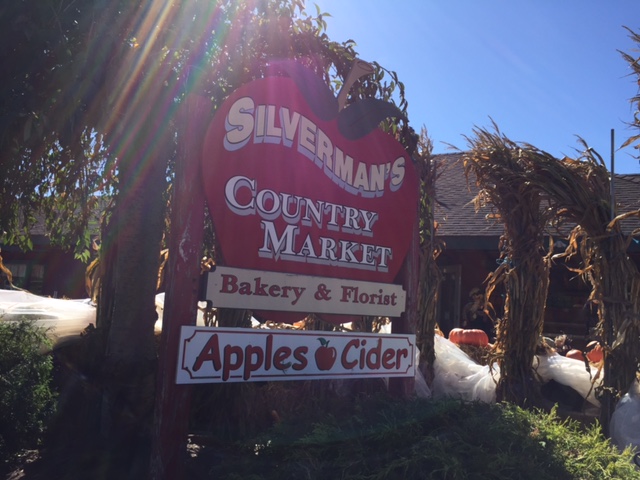 Once again came a flood of memories, like the time Jim and I thought Mom would enjoy going to the petting zoo and picking apples. (Seven years ago she had become very childlike and it was a lot like entertaining one.) So we piled into the the car along with Toby, our Boston Terrier.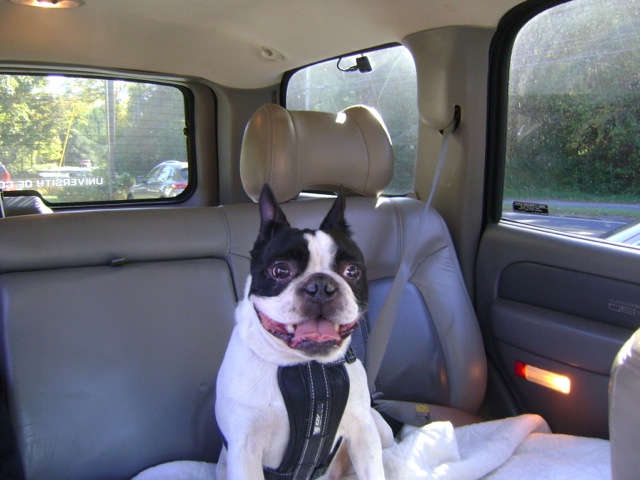 Unfortunately, everyone in Manhattan had the same idea that weekend thanks to a radio ad on WCBS. Sport Hill Road, a rural route, became a midtown parking lot. I'm sure we joined legions of parents dealing with "are we there yet" only ours was coming from an elderly woman with Alzheimer's and a barking dog.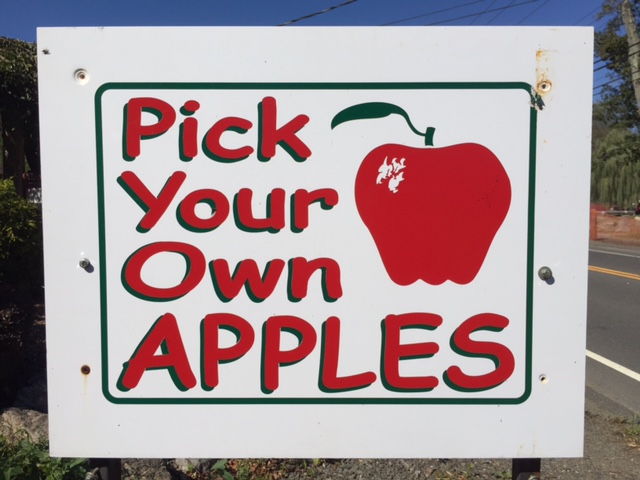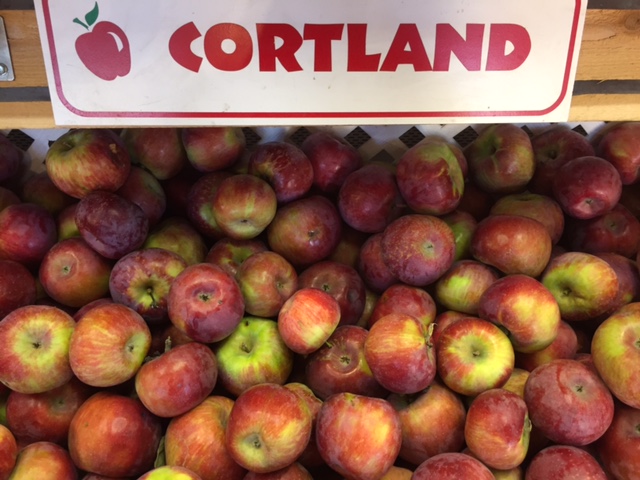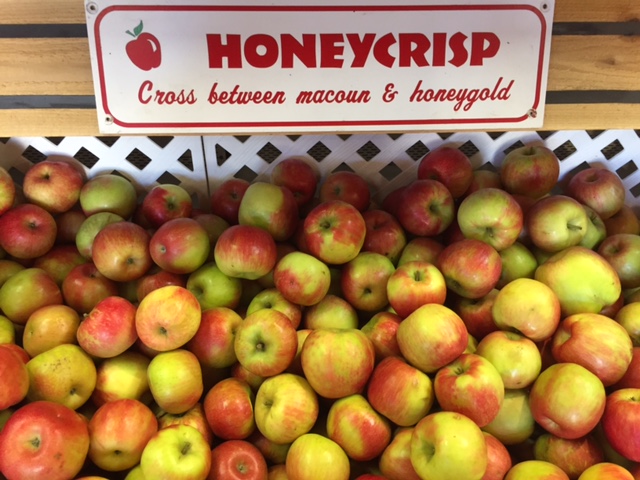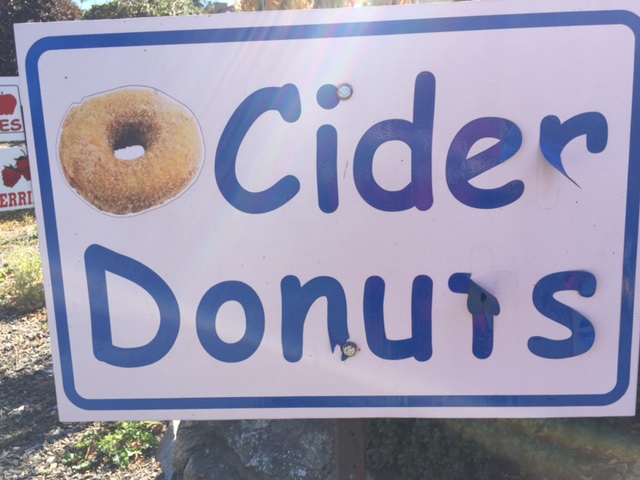 A great life lesson was reinforced after that fall outing. It was the journey, not the destination that made the trip so memorable!
Now back to that cherished little spiral bound cookbook from Stephenson's Apple Farm. My dear friend, Mary Beth Doughty, sent me a copy of her mother's after mine had been lost. I always loved their apple cake so…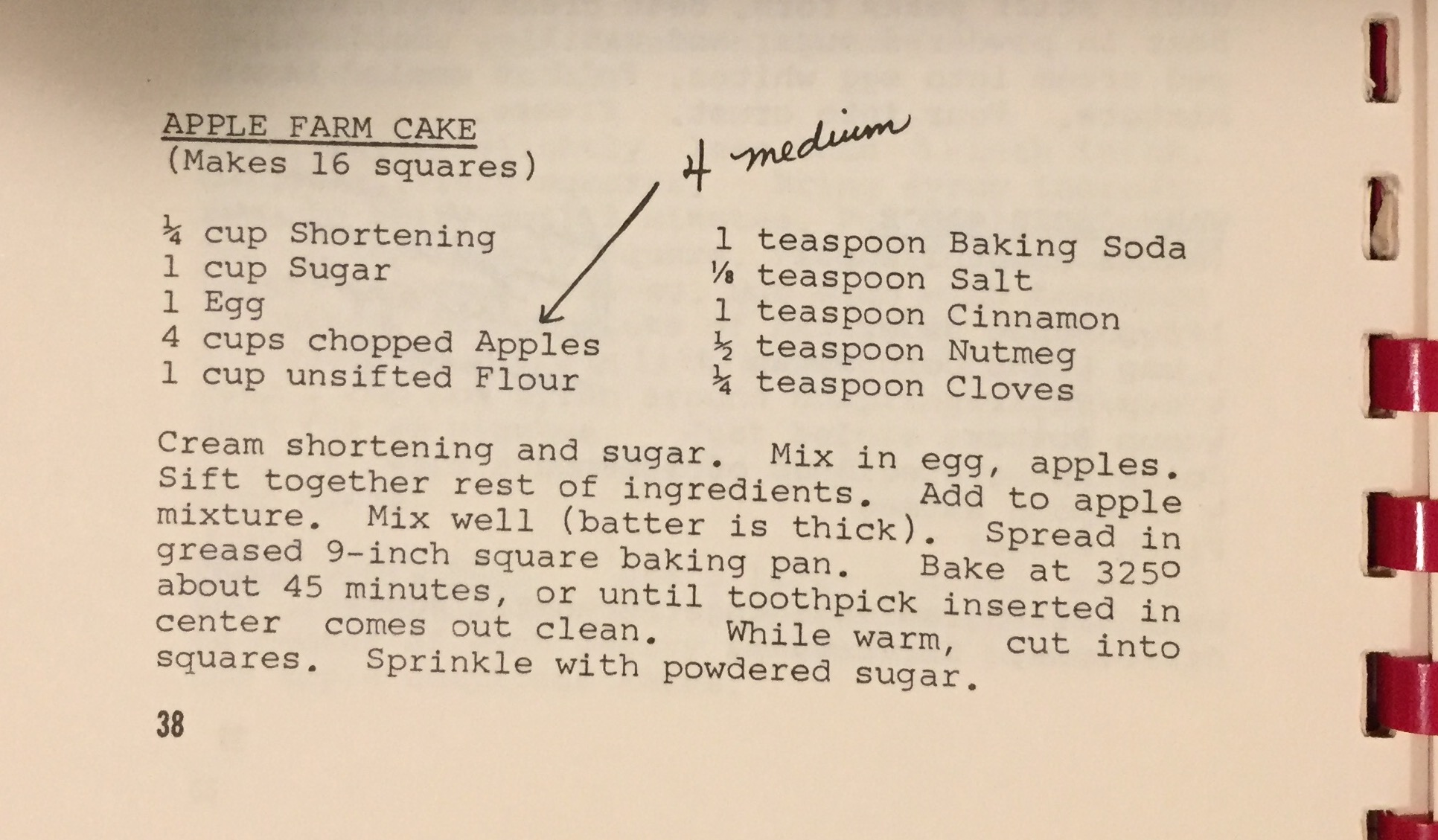 I'm going to make it for you right now only I've made a few slight changes to the recipe. Instead of shortening (I'm not crazy about using hydrogenated fats), I'm substituting 2 Tbs of melted butter mixed with 3 Tbs of vegetable oil.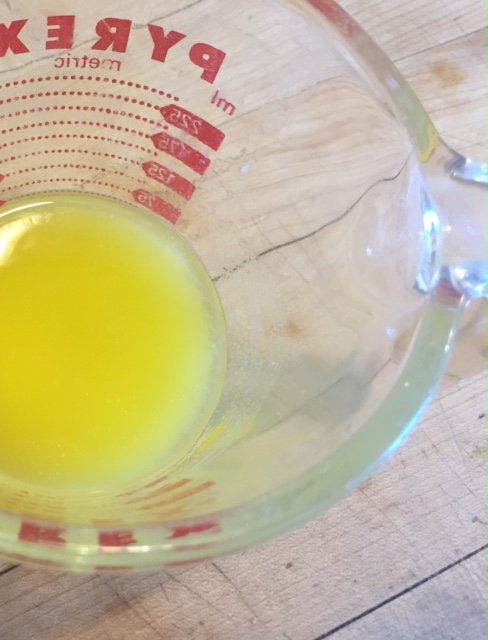 I'm also substituting 1 cup of granulated sugar with half a cup of granulated sugar and half a cup of firmly packed brown sugar. I think this gives more of a caramel apple flavor.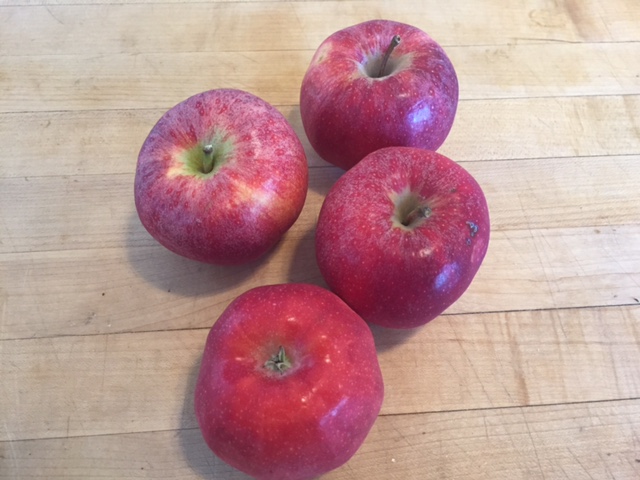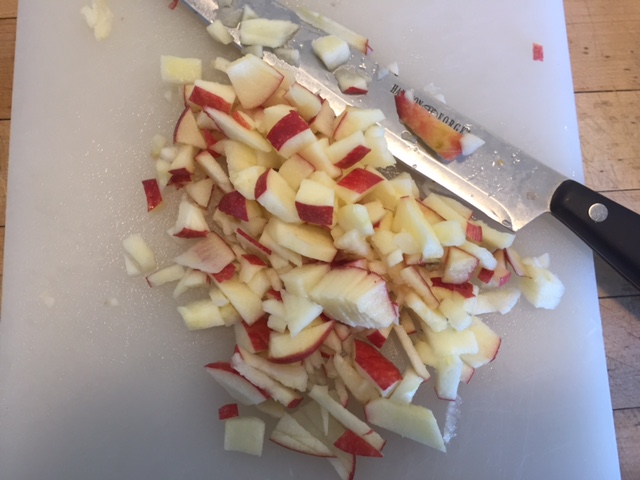 I also coarsely chopped the apples to give it more of a Swedish apple cake texture. Simply proceed with the recipe as written in the cookbook then spread into a parchment lined pan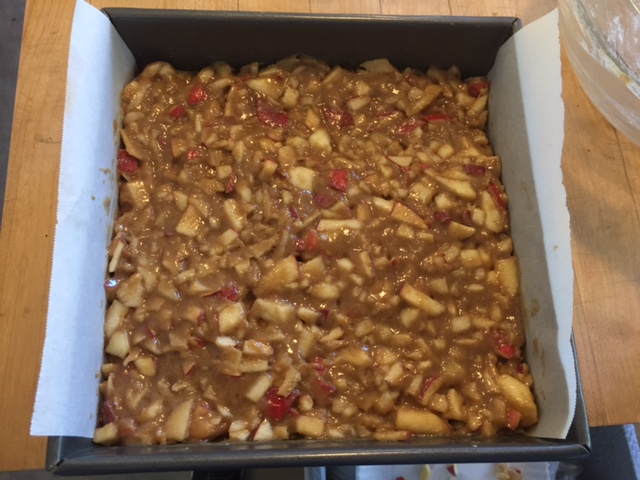 and bake as directed (325° for 45 minutes) until golden brown.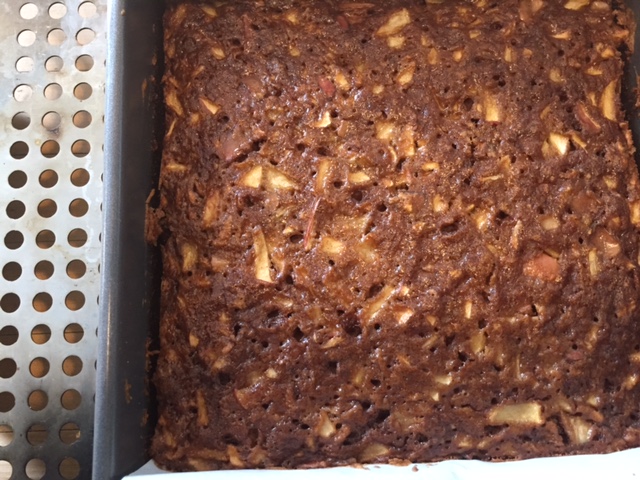 Here I've turned it out on a platter and it can be simply sprinkled with powdered sugar as is done in the recipe…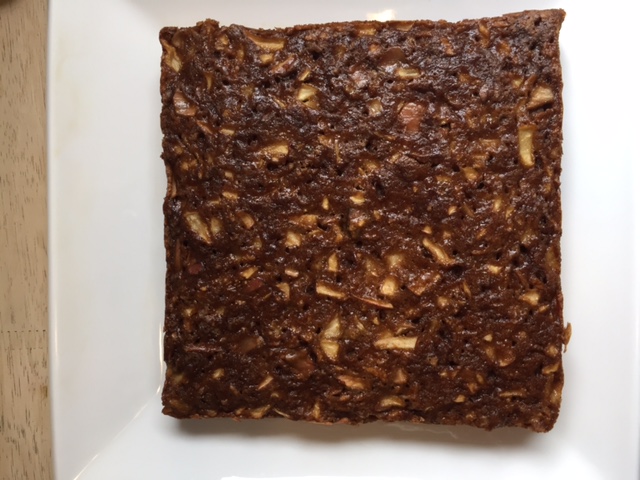 or slathered with cream cheese frosting and toasted pecans as was done at the restaurant!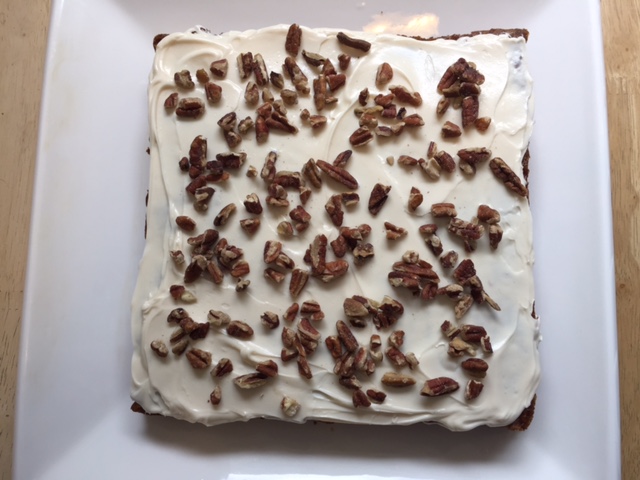 Oh how I loved getting a free slice of cake on my birthday at Stephenson's. Only problem is when my birthday overlapped with Mother's day and they ran out. Oh there I go again with more "apples on the brain".  Fortunately, it's only a seasonal disorder!