Fruitcakes are brunt of many bad jokes. So the thought of receiving one actually causes anxiety for some (as in how to dispose of it graciously). I never had this problem because I grew up enjoying what was the most delicious cake-like confection called Manor Fruitcake. It was locally popular in Kansas City at the time. There was nothing bitter about it as it wasn't flecked with that strange tasting candied citron you'd find in cheaper cakes. No, this was a delightful, concoction of pecans, glazed pineapple, candied cherries and golden raisins with barely enough moist, buttery batter to hold it all together. Best of all, it came in a blue, western-style tin with conestoga wagons blazing the Sante Fe Trail. I felt so sad when I moved to New York and it was no longer available to me. For years, friends would ship us one and then they stopped as they were no longer in KC grocery stores either. Ok… enough of this. If you think I'm going to be baking fruitcakes today, I'm not. I don't have a recipe that does the memory of that cake justice.
However, Mom always said the real secret to the cake was in the golden raisins, so that lead to a Christmas tradition I came up: Orange Ginger Creamsickle Cake. It's based on an old colonial recipe with the addition of, you guessed it, GOLDEN RAISINS! then I topped it off with a yummy orange frosting reminiscent of a "Creamsickle" . The best part about this cake is that people don't look scared when you hand it to them as a gift. These freeze really well and can be made ahead of time. In fact, it's a good thing I did that because I've been sort of sidelined . (I pulled out my back out of whack shoveling snow last weekend.)
GINGER CAKE
2 1/2 cups allpurpose flour
1/4 cup shortening, softened
1/4 cup butter, softened
1 cup molasses
3/4 cup hot water
1 tsp baking soda
1 tsp ginger
1 tsp cionnamon
1/2 tsp salt
1 egg
2 tsp fresh grated orange peel
3/4 cup golden raisins
Creamsickle Frosting (recipe follows)
toasted almonds
Preheat oven to 325°. Line the bottom of a 9″x9″ baking pan with a square of baking parchment. Beat all the ingredients except raisin with an electric mixer on low speed for about 30 seconds. Scrape down bowl and beat 3 minutes on high speed, scraping down bowl two or thee times as you go.
Stir raisins into batter and spread into pan.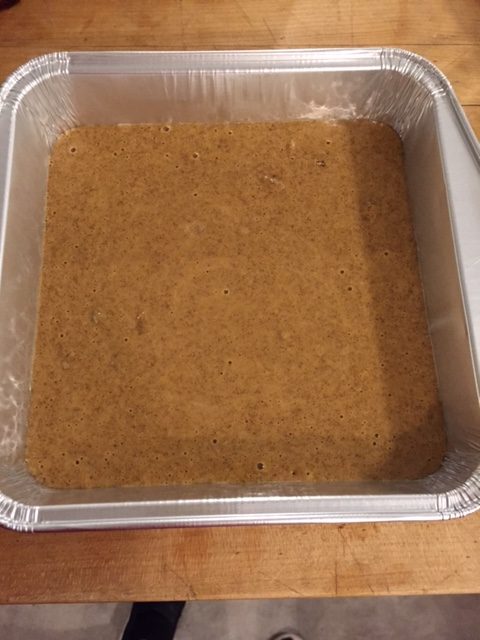 Bake for 50-55 minutes until golden brown and a toothpick comes out clean when inserted in the center.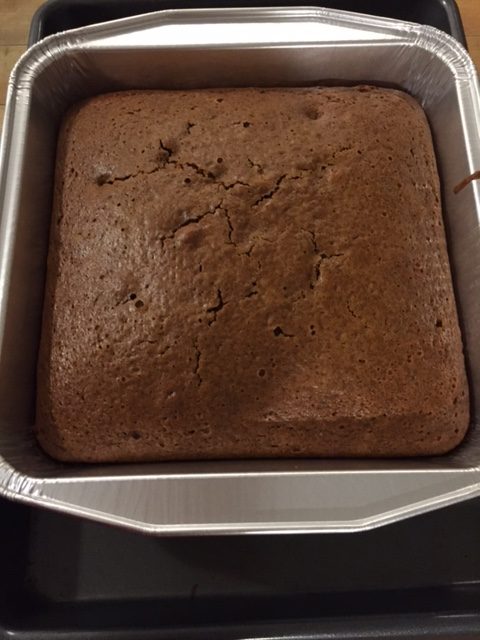 Cool completely. Cover with plastic wrap to keep from drying out until you are ready to frost.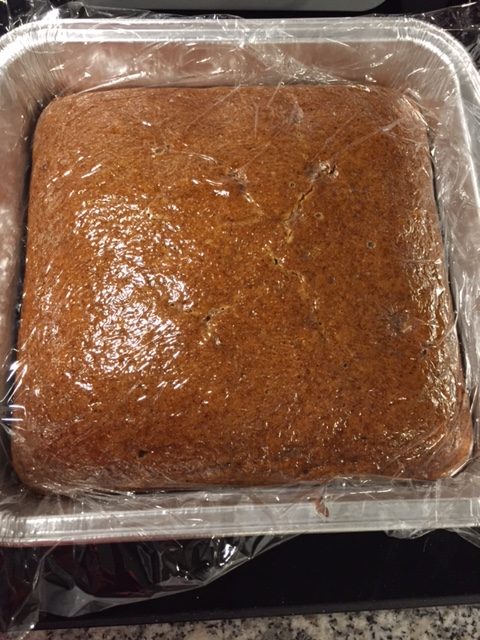 and frost with orange cream cheese frosting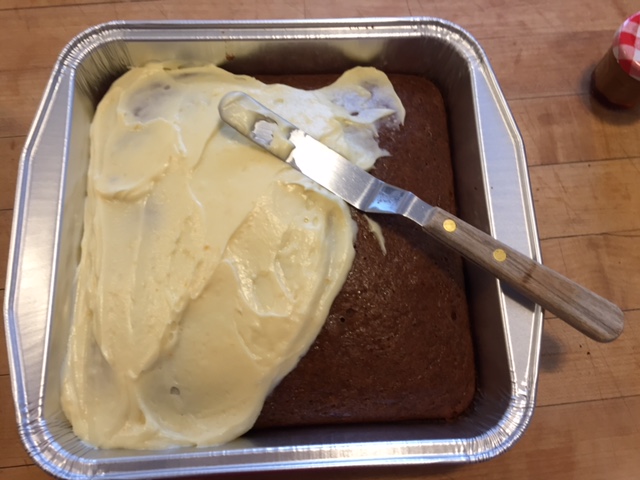 and garnish with toasted slivered almonds.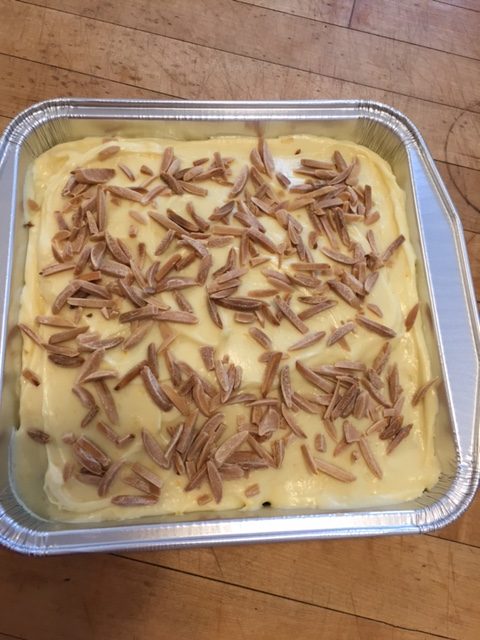 CREAMSICKLE FROSTING
4 oz cream cheese softened
1/4 cup butter, softened
2 1/2 cups powdered sugar
2 tsps fresh grated orange peel
1 Tbs frozen orange juice concentrate, thawed
1/2 tsp vanilla extract
1/4 tsp almond extract
Beat cream cheese and butter until fluffy and well blended. Beat in remaining ingredients until creamy and smooth.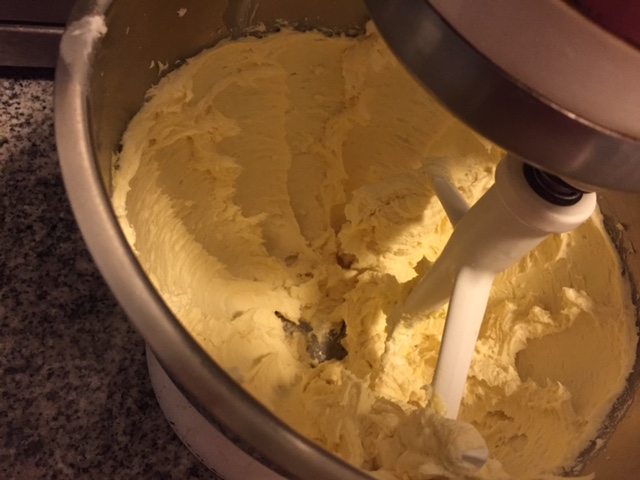 Tip– in toasting almonds, spread on a pan and bake at 350° for about 6-8 minutes.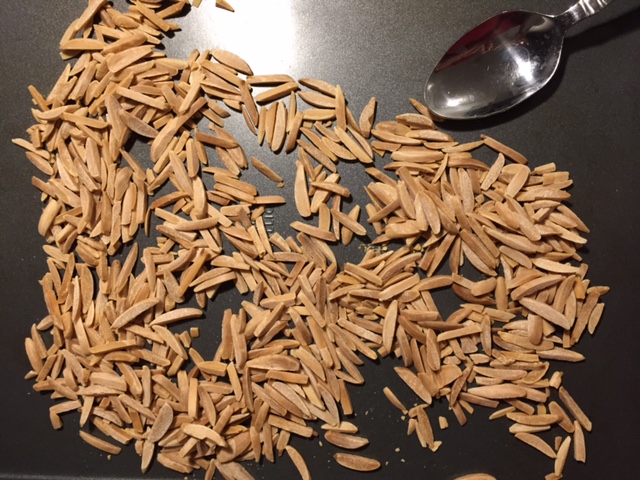 Just one more cake story– This is my fiance Jim reverting back to his childhood title of
"The Cake Eater"
. One of his family's legends involves his sister's birthday cake. As a small child, Jim watched it on the kitchen counter while his sister was having her birthday party in another room. Finally the temptaion became too strong and he began scraping all of the icing off the cake to eat for himself. (I guess some things are hard to outgrow!)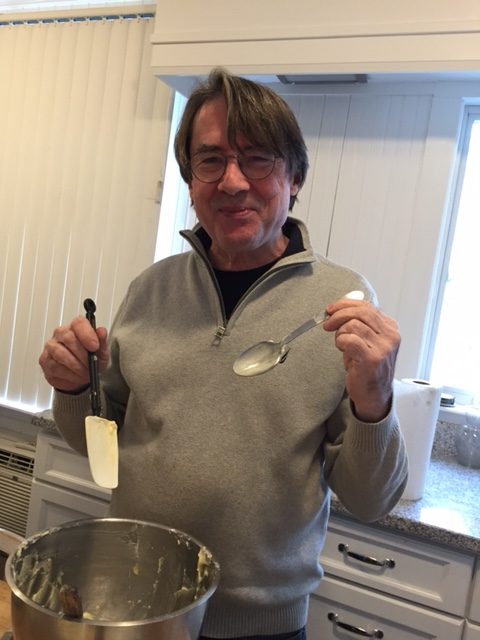 As you can see, these are easy to bake as gifts if you buy pans with snap on lids. I often double or quadruple this recipe as it works very well in an assembly line process. Just add a bow and you're good to go!