Once upon a time, I wrote my first book. It was simply called The Children's Party Handbook and subtitled Fantasy, Food and Fun.
Back in the day, my publisher was more concerned with focusing on timeless themes and avoiding trends that would make the book seem dated in a few years. The photos were intentionally set up without a child in view because their clothing or hair might "date" the book down the road.
In this new world of publishing, the opposite is true. It's all about riding the crest of trends before they're already over. In a paperless world, a book's shelf life no longer matters and longevity is not the goal.
Now I thumb through these pages with nostalgia.  I had a very good run with my first book and have no regrets with the decision to feature classic kid's parties and holiday themes like a Beatrix Potter Easter Brunch.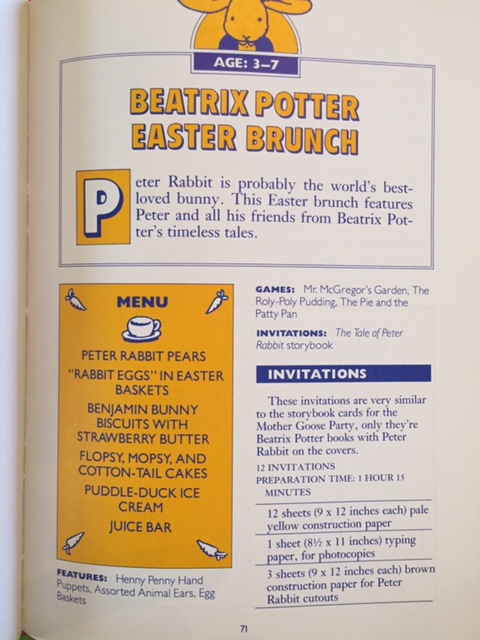 In addition to the traditional Easter egg, kids step into the storybook world of Beatrix Potter with games like Mr. McGregor's Garden, The Pie and the Patty Pan and The Roly-Poly Pudding. Cake and ice cream are quintessential to all kids parties and this one had Flopsy, Mopsy and Cotton-Tail Cakes along with Puddle-Duck Ice Cream…
What's my favorite recipe from the Beatrix Potter Easter Brunch? As an adult I find "Rabbit Eggs" in Easter Baskets a great dish for entertaining. You may ask what are rabbit eggs? Some kind of Cadbury chocolate fondue? Not exactly, but you might be on the right track…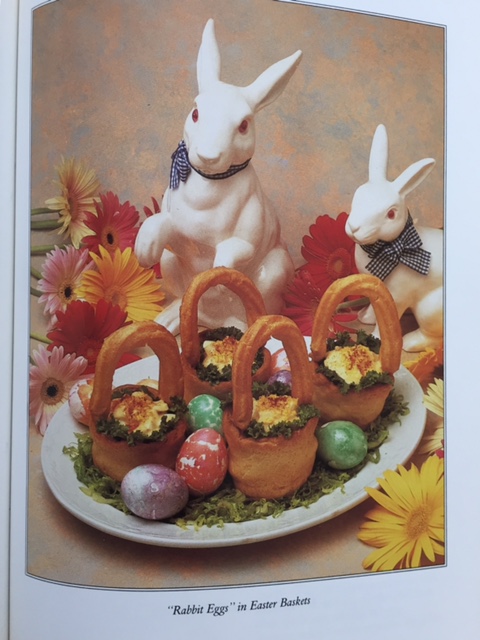 Golden buck or Welsh rarebit is often referred to in England as "rabbit." By any name it's a dish consisting of a rich cheddar cheese sauce, kind of like a cheese fondue. Add hard-cooked egg whites and grate the yolks over the top and you are channeling a vintage dish known as eggs goldenrod ( a popular menu item  from 1920s tea rooms).
For this party, the idea is to serve them in pastry baskets made from cream puff dough. That's what I'm going to show you how to do today, step by step:
For Baskets:
1 cup butter
2 cups water
2 cups flour
8 eggs
Preheat oven to 400° F. Butter the sides of 10, 6- oz custard cups and place in the freezer for a few minutes so that dough will adhere to the sides which should only take a few minutes. (If you  don't have that many custard cups,  do these in two batches. You can also cut the recipe in half if serving fewer guests.)
Bring water and butter to a boil in a large saucepan. As soon as butter melts, add flour and beat vigorously with a wire whisk over medium heat until the mixture forms a ball.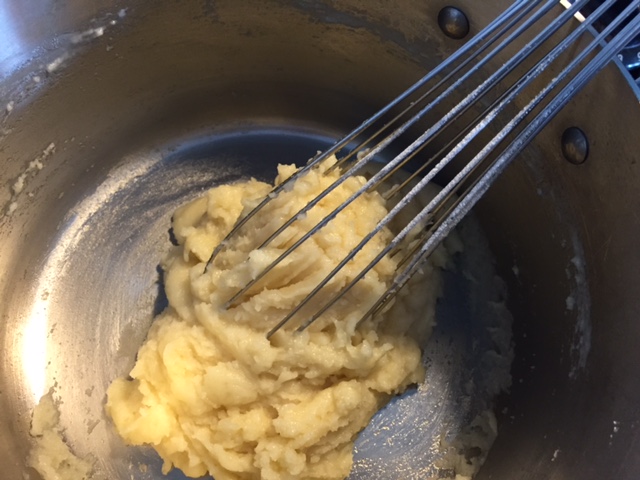 Remove from heat and beat in eggs one at a time until smooth.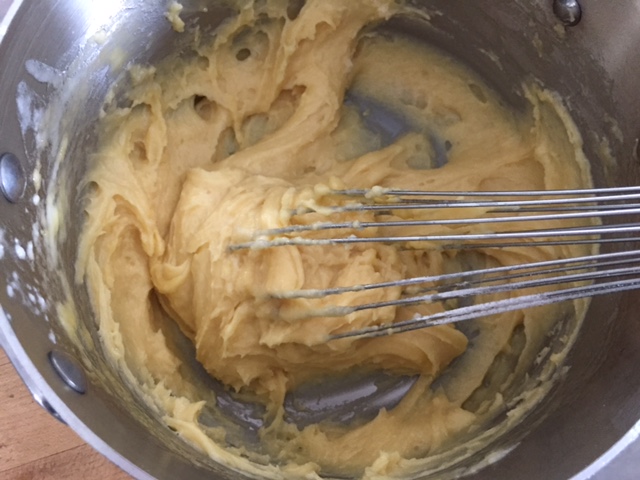 Place about 2-3 heaping Tablespoons of dough into each chilled custard cup and spread evenly with a spatula covering all of the surfaces. Bake 30-35 minutes.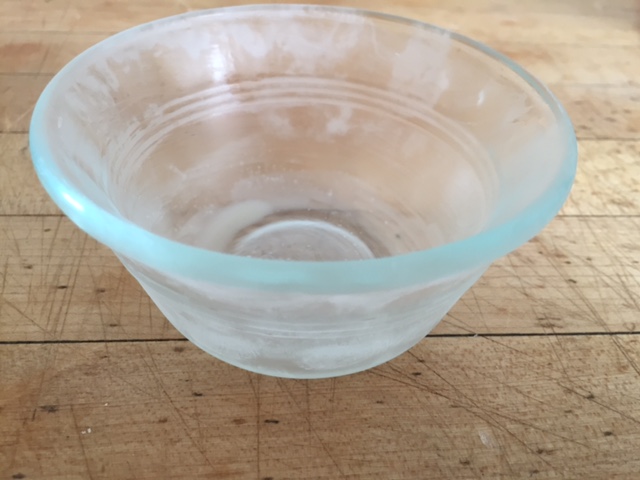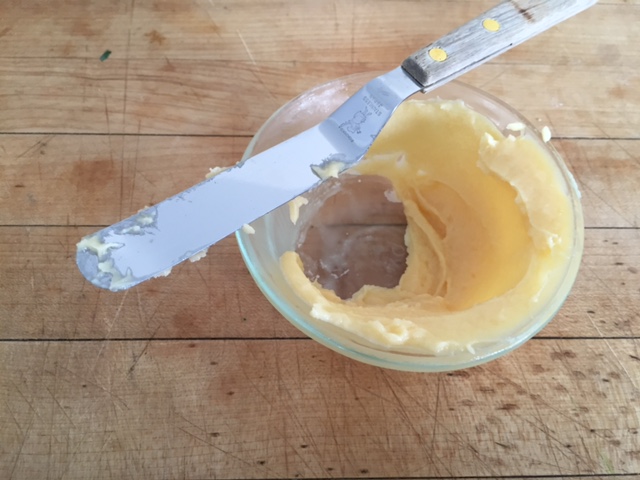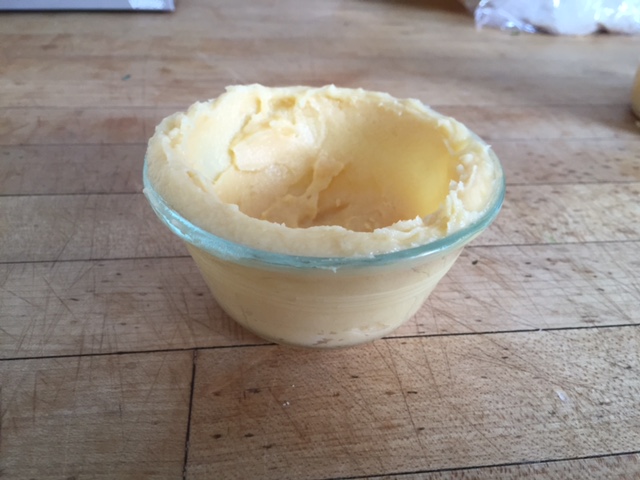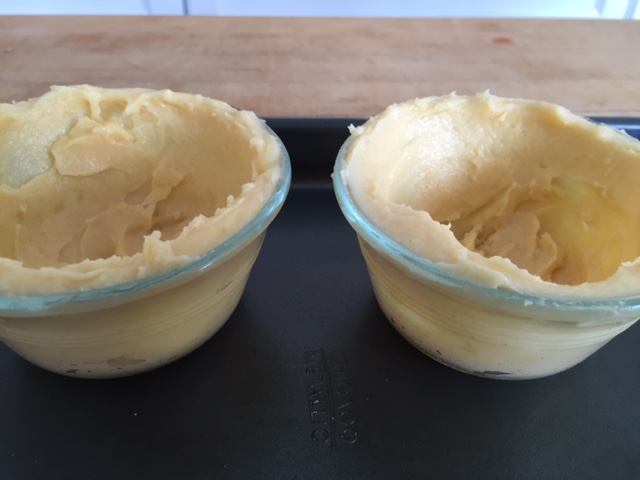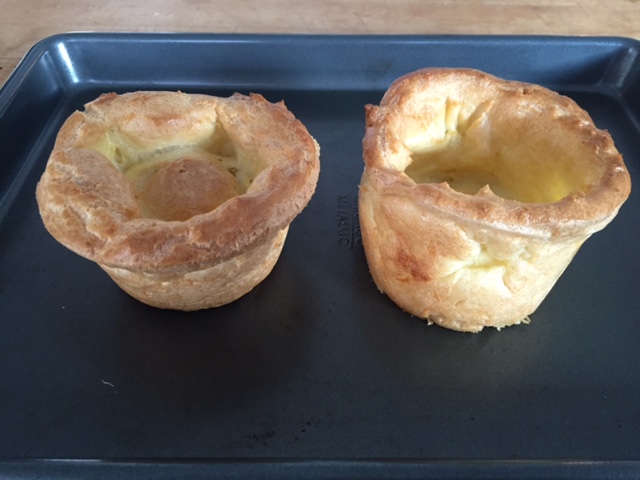 Meanwhile, Line baking sheets with parchment paper and fill a large pastry bag with remaining dough. Pipe U shapes for basket handles.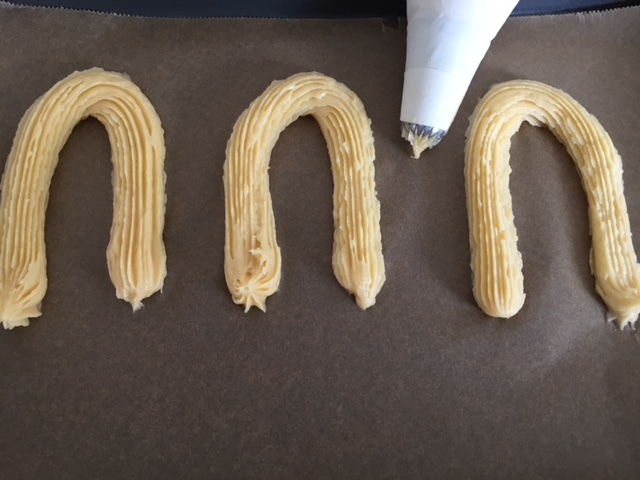 Bake about 18 to 20 minutes until golden.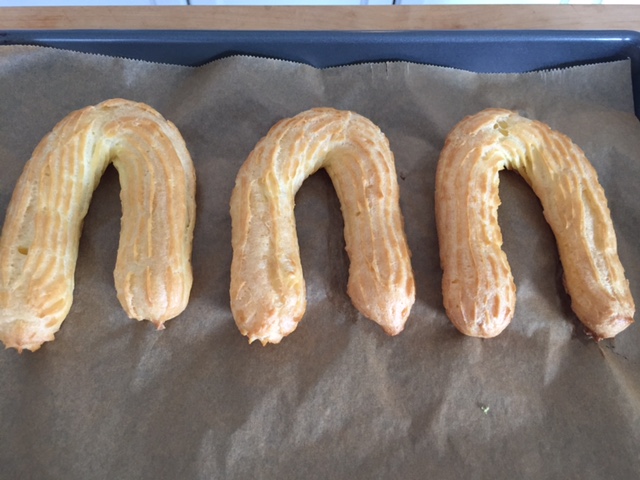 At this point, baskets and handles may be prepared a day ahead and rewarmed on a foil covered try before serving. The filling may also be prepared in advance.
"Rabbit Eggs"
1/4 cup butter
1/4 cup flour
1/2 tsp onion powder
1/2 tsp salt
1/2 tsp dry mustard
grated black pepper and rosemary to taste
1/2 tsp Worcestershire sauce
2 cups milk (warm in microwave for 2 minutes)
2 cups grated sharp cheddar cheese
12 hard cooked eggs
1/2 cup chopped parsley or arugala
Melt butter, flour, onion powder, salt and dry mustard in a medium saucepan and stir over medium heat with a wire whisk until you have a bubbling roux.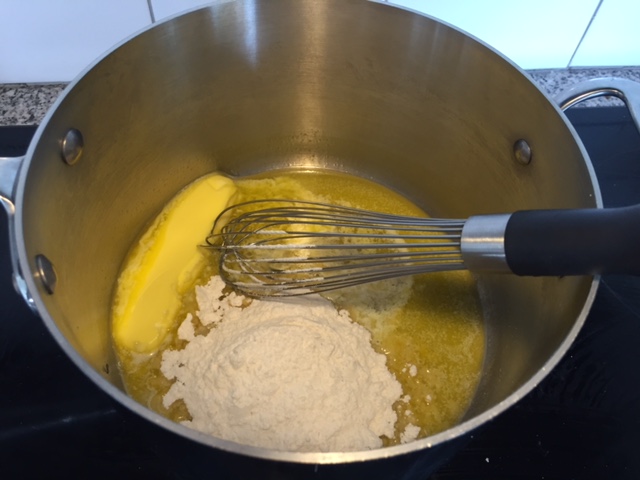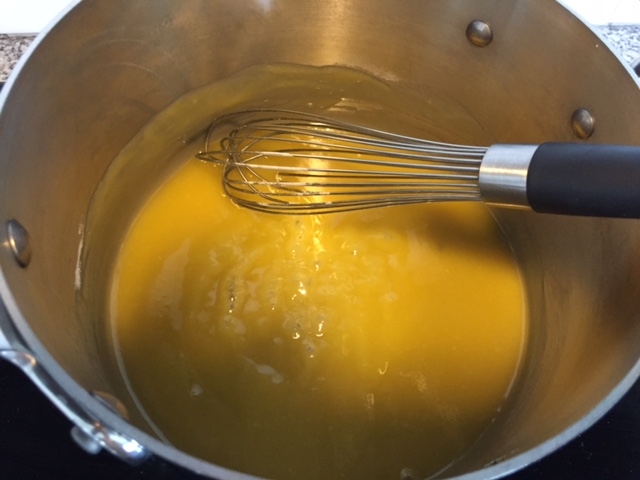 Now blend in milk and bring to a boil, stirring constantly until thickened. Season with Worcestershire, pepper and rosemary to taste.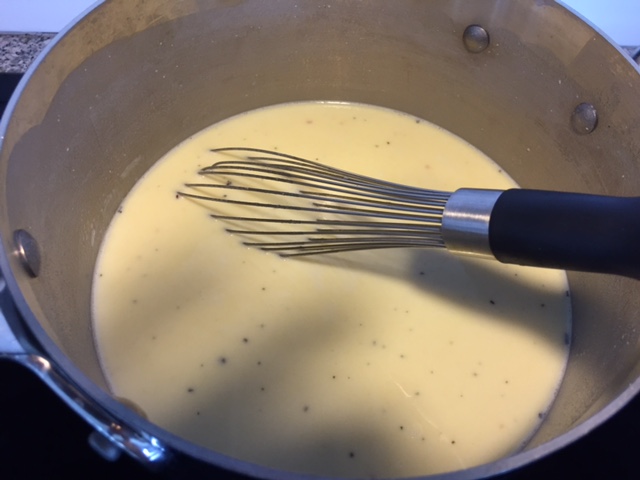 Blend in cheese until melted.
Split eggs in half and separate yolks from whites.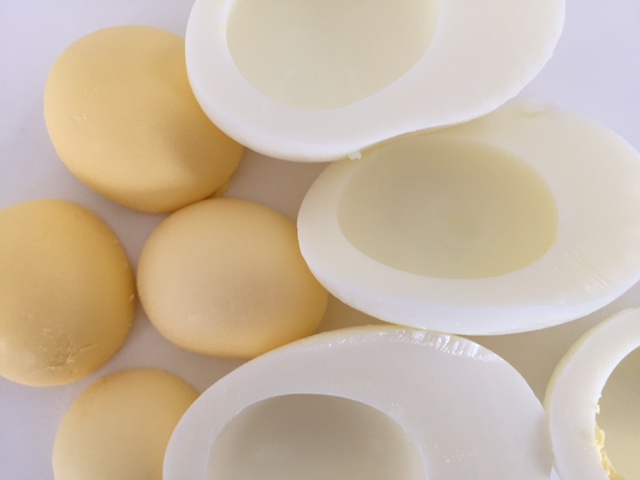 Slice up egg whites and stir into sauce, reserving yolks. Trim bottoms of handles so that they are flat. Fill baskets with egg filling and top with chopped egg yolk. Garnish around edges with parsley or arugula for "grass." Use pieces of dried spaghetti like you would toothpicks to anchor the handles in place on baskets (this is safer to do around small children than using toothpicks).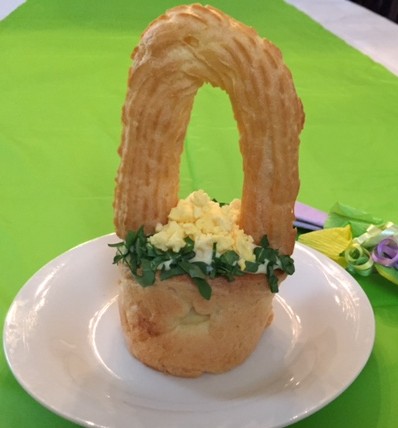 The idea of using cream puff bowls is not limited to this dish. It works equally well with egg salad or chicken salad. Want to make a big impact? Try spreading the dough into a high rimmed glass pie plate and make yourself a full size Easter basket! Speaking of Easter baskets, be sure to swipe all of those hard cooked eggs and put them back in the fridge tonight so you can have "Rabbit Eggs" tomorrow.