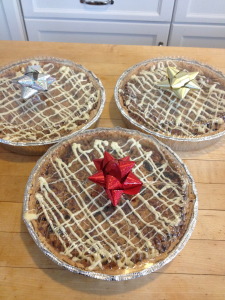 When it comes to holiday baking, I find the gifting of pies gives the most bang for the buck as far as time spent achieving the "Yummm Factor". You know how it is: You spend a couple days rolling, cutting, baking and decorating dozens and dozens of Christmas cookies to come up with an attractive assortment. There's flour all over your counter and you're getting carpal tunnel from repetitive motion. Then you bring your cookies to a holiday dinner and the hostess sits them right next to three other boxes of homemade cookies. Since the invention of refrigerated pie crust, there's a reason for the expression "easy as pie " ! (I like making my own from scratch for many occasions but not when I'm time stressed at the holidays.) In a few hours you can bake two, four or six pies for presents. Best of all, when you carry it through the door, it will get noticed and most likely end up on the dining room table for the grand finale!
WHITE CHOCOLATE PECAN CHRISTMAS PIES
Ingredients:
2, 8"aluminum cake pans with clear plastic covers
(these make more stable pies than aluminum pie pans)
Makes 2 pies
Allow pie crusts to soften for 30 minutes at room temperature. Unroll and line pastry into cake pans taking care to ease pastry into bottom and sides so as not to stretch it. Trim crust evenly around edge of pan and score edges with tines of a fork. Place pie shells on a large baking sheet. For each pie: Spread 1 1/2 cups pecans in the pie shell and top with 1/2 cup white chocolate chips and 1/3 cup raisins. In a large bowl with wire whisk, beat together, light brown sugar, dark brown sugar, butter, corn syrup, eggs and vanilla extract until smooth. Transfer filling to a large glass measuring cup and pour filling evenly into pie shells. Preheat oven to 350 and bake on lower rack of oven for 45 minutes. Cool completely and drizzle with white chocolate glaze.
Ingredients:
2, 8"aluminum cake pans with clear plastic covers
(these make more stable pies than aluminum pie pans)
1 box ready to bake pie crust rolls.
3 cups lightly toasted pecans*
1 cup white chocolate chips
2/3 cup golden raisins
1 cup light brown sugar
1 cup dark brown sugar
(note the blend of light and dark brown sugars gives the right caramel color)
1/2 cup (1 stick) unsalted butter, melted
1 bottle (2 cups) light corn syrup
6 large eggs
1 Tbs vanilla extract
White Chocolate Glaze
For White Chocolate Glaze: Melt 1/2 cup white chocolate chips with 1 Tbs vegetable shortening in microwave about 30 seconds. Stir until smooth.