I'm a fan of fall food! I don't know what it is but when autumn is in the air it's my appetite's turn to feel satisfied. I honestly crave roasted root vegetables, acorn squash,  apple cranberry crisps, pear pudding, pecan pie all things gingery, "pumpkiny" and drizzled with praline sauce– not just now  but  all year long!  So this is my time to revel in the season and serve all the dishes I'd secretly like to keep eating all year long. Here's one of my favorites I hope will become one of yours.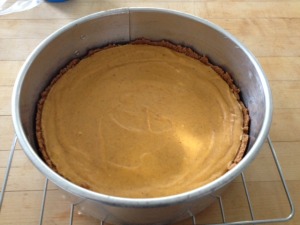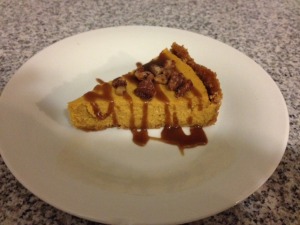 PUMPKIN PRALINE CHEESECAKE
Crust:
1/3 cup butter
3 Tbs brown sugar
1 1/4 cups graham cracker crumbs
Filling:
2, 8 oz pkgs cream cheese, softened
2/3 cup firmly packed brown sugar
1 tsp vanilla
2 tsps pumpkin pie spice
1/2 cup solid pack pumpkin
2 eggs
Praline Sauce:
1/2 cup toasted pecans
For Crust: Combine butter and brown sugar in a saucepan. Melt over low heat, blending until smooth. Stir in graham cracker crumbs. Spray the bottom and sides of a 10" springform pan with nonstick cooking spray. Press crumbs in the bottom. Bake at 350 degrees for 5 to 7 minutes until lightly tinged with brown and set (do not over bake).
For Filling: Beat cream cheese, brown sugar,vanilla, pumpkin pie spice and pumpkin until smooth. Beat in eggs one at a time. Bake at 325 degrees for 40 minutes. Remove from oven and cool completely. Cover with plastic wrap and chill at least 5 hours. Serve with Praline Sauce and sprinkle with toasted pecans
For Praline Sauce: 2 tbs butter 1/2 cup firmly packed dark brown sugar 1 tsp flour 1/4 cup heavy cream 1 tsp vanilla 1 Tbs maple syrup 1 Tbs bourbon In a small saucepan, melt butter and blend in brown sugar and flour. Add heavy cream, vanilla, maple syrup and bourbon. Bring just to a boil, stirring constantly. Remove from heat and serve warm to room temperature.