I've always felt really "green" whenever I've bought a live tree in a pot around the holidays. I don't have to feel guilty about harvesting a perfectly good source of wood, way before it's prime, just for my family's entertainment. (OK– I don't really feel that guilty about having a  cut Christmas Tree in my living room but it seems so much better knowing I don't have to put it out of it's misery when the needles start to fall.) Why not make your own mini live trees from pinecones which are really nothing more than baby trees! Talk about the circle of life. These make unique mantle decor or accent to place settings at the dining room table. Wrap them up and they make great hostess gifts to bring to your next holiday party.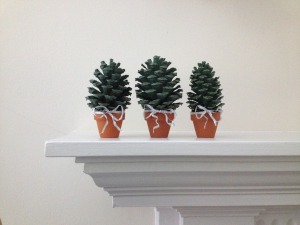 Materials:
15 mid-sized unscented pinecones (bagged pinecones frequently come in 15 count size)
Large baking sheet
Aluminum foil
1 can sage green colored  satin finish spray paint
15 mini terra cotta pots – 1.5″
High temp hot glue gun
7 1/2 yards 1/4″ silver wired ribbon
Scissors
Arrange pinecones (well spaced) on baking sheet that has been completely covered (top and sides) with aluminum foil. Spray well with one coat of green paint to cover all sides. Allow to dry 2 hours.
Come back and spray second coat, taking care to reposition pinecones to cover any spots missed by paint. Allow to dry 24 hours.
Taking caution not to touch actual hot glue. Pipe a rim around the edge of each terra cotta pot, one pot at a time. Immediately top with a pine cone and apply gentle pressure. (Twisting the pinecone slightly into the pot helps make better surface contact as the glue hardens.) Be sure to work quickly after applying hot glue. If glue becomes too hardened to adhere to the pinecone, peel the glue off with a knife and try again.
When all trees have been glued into pots, cut ribbon into 15″ lengths. Carefully tie ribbon around each pot at the base of the pinecone, taking care to cover the hot glue seam as much as possible. Tie ribbon ends into a bow.