Today I was grabbing lunch on the run in a locally popular restaurant. I couldn't help but hear the phone ringing off the hook as the hostess kept breaking the bad news to last minute customers. "I'm sorry we're all booked for Mother's Day until 7pm".
If you haven't noticed by now, Mother's Day is probably one of the busiest restaurant days of the year and, if you ask many moms what they want on their day they'll say: "reservations at…" You fill in the blank for her favorite place. Of course, everyone has the same idea and that leads to long, long waits and limited menus that often omitted her favorite dish (at least with our family). Brunch is by far the busiest seating so you can dodge the crowd in the morning by treating her to brunch at home and still take her out to dinner in the evening. She'll feel twice as special, as she should!
This ricotta pie is similar to a crustless quiche. It's rich and delicious with no guilt if you are counting carbs. I know I've been using a lot of meat in posts these past few months while Jim has been practicing a low carb lifestyle. However, if you are also foregoing meat, this works equally well as a vegetarian dish.  Simply add more asparagus and mushrooms when omitting the ham. The ricotta cheese is actually lighter than a quiche filling using heavy cream.
As for the Havarti cheese, grate it if you have a block or you can cut the sliced cheese into thin julienne shreds with a knife.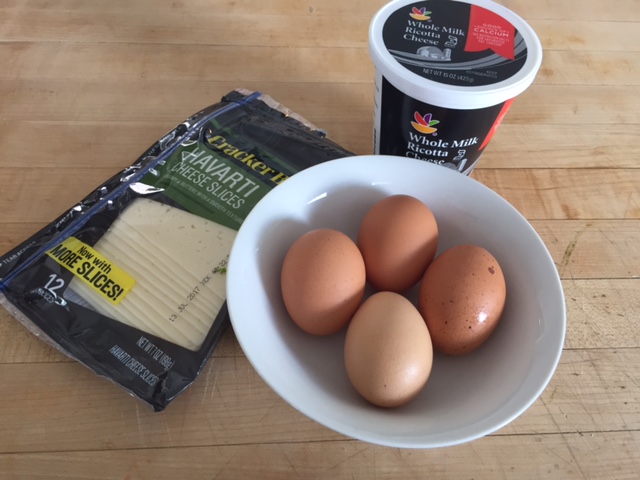 We almost always have some prepped omelet fillings in the fridge on hand for breakfast. These include grilled asparagus and roasted mushrooms. Hint: the grilled asparagus are super convenient (and frequently cheaper) if you buy them frozen from Trader Joe's. Typically, I'm not a fan of frozen asparagus but these grilled ones have a nice flavor and, since you are baking them in a pie, the final dish isn't really compromised.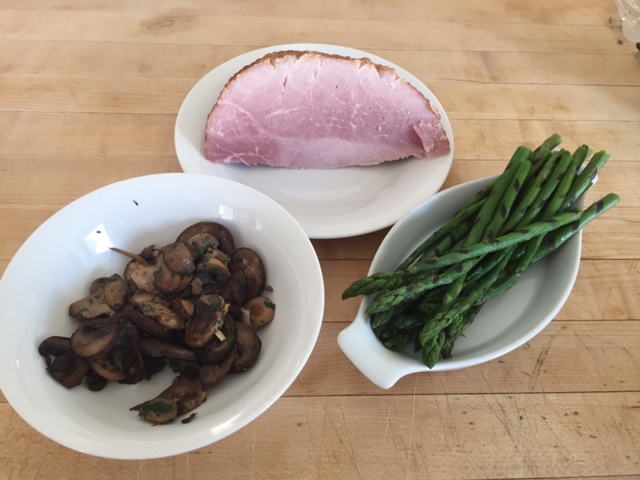 To roast mushrooms: I always line a baking sheet with foil, dull side up. Lightly grease with butter (this adds extra flavor and helps them brown). Scatter sliced baby bella mushrooms and spray with a light coating of olive oil.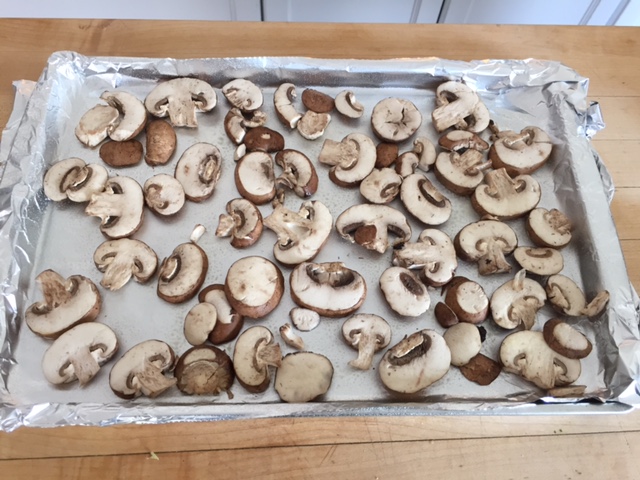 Sprinkle with salt and roast at 350° for 20 minutes until golden brown.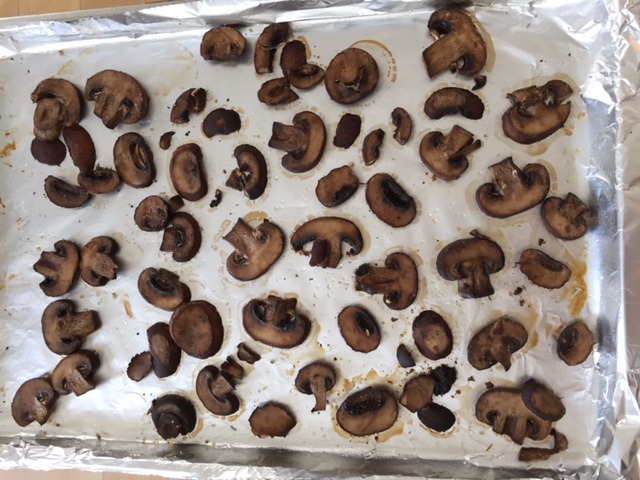 Ingredients:
4 eggs
1, 15 oz carton of whole milk ricotta cheese
1 cup +2 Tbs grated or julienne sliced shreds of Havarti cheese
3 Tbs grated Parmesan cheese
1 tbs chives
1 tsp garlic powder
1/2 tsp salt
1/4 tsp cracked pepper
About 16 asparagus spears, grilled or use Trader Joes frozen grilled asparagus and cook acording to packaged directions.
2  scallions
1 cup diced ham
1 cup roasted mushrooms
For the filling. Combine eggs ,  whole milk ricotta,  chives,  garlic powder, salt, and  cracked pepper in a mixing bowl.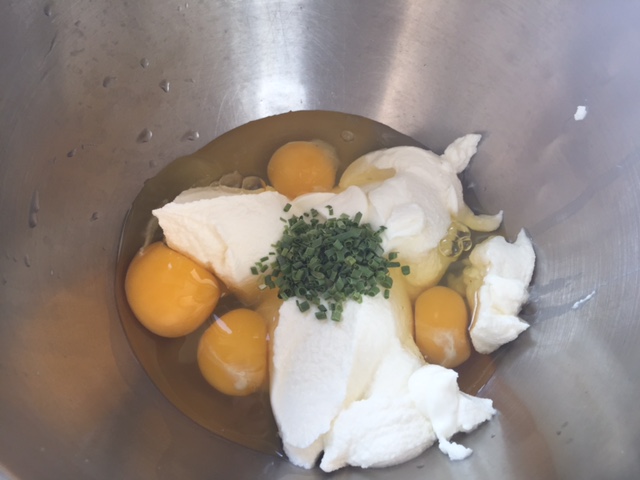 Beat on medium speed until smooth.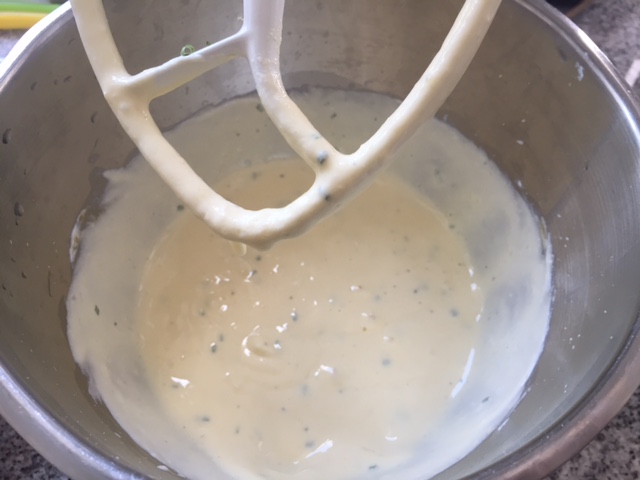 Cut grilled asparagus in half, saving tips for the top of the pie.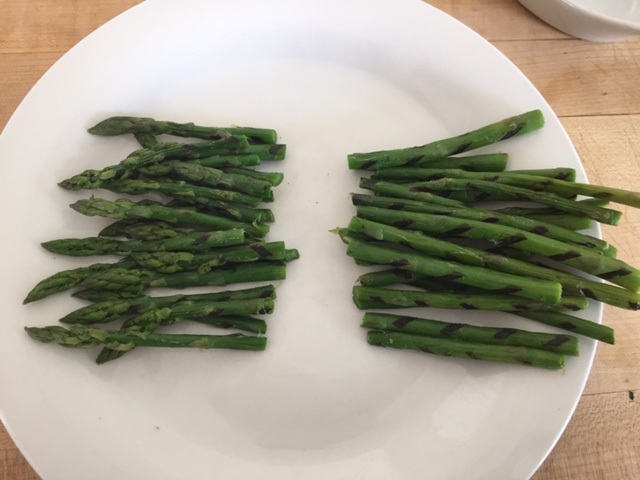 Chop up the bottom of the stems for the filling. Slice scallions.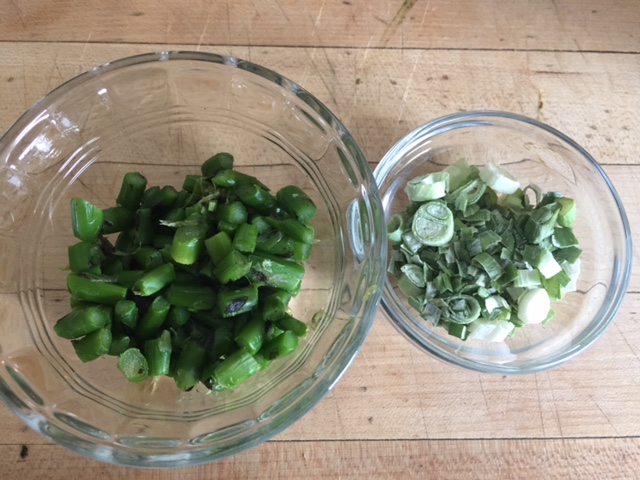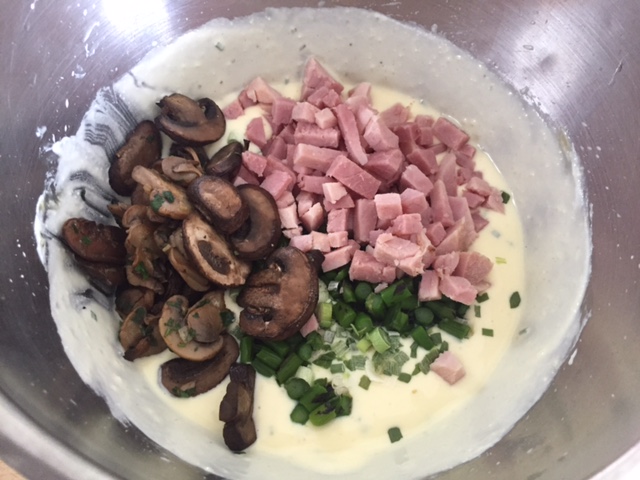 Stir in  diced ham,  roasted mushrooms, asparagus bottoms and scallions. Blend in 1 cup of shredded Havarti cheese and 2 Tbs grated Parmesan cheese. Spread into a pie plate lightly greased with butter, olive oil or non stick cooking spray .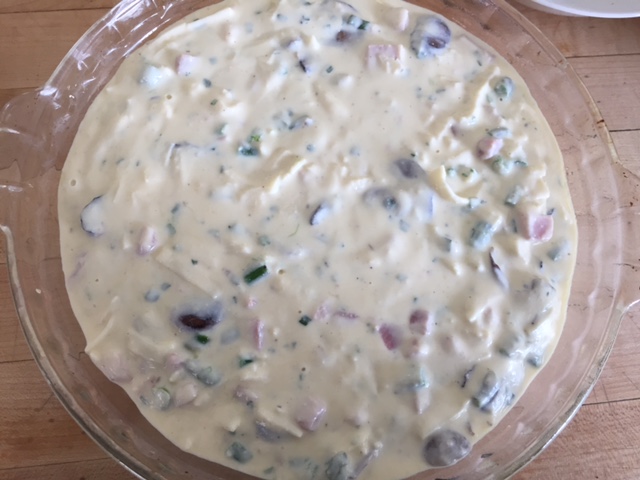 Top with asparagus tips arranged like the spokes of a wheel. Sprinkle with remaining 2 Tbs of  Havarti cheese and sprinkle with 1 Tbs of Parmesan cheese.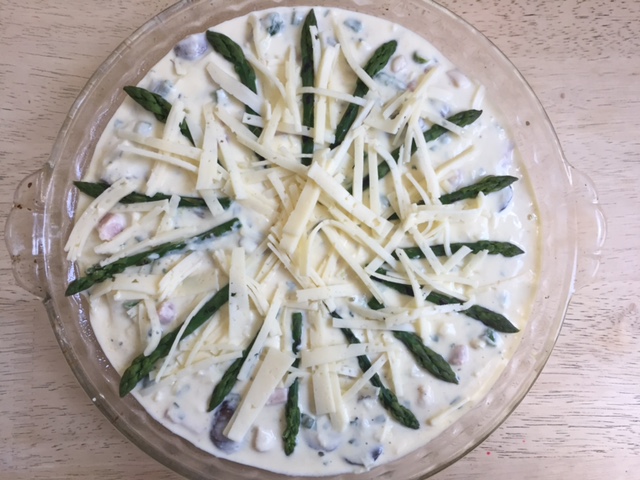 Place on a baking sheet and bake in a preheated 350° for 40 to 45 minutes or until golden brown on top.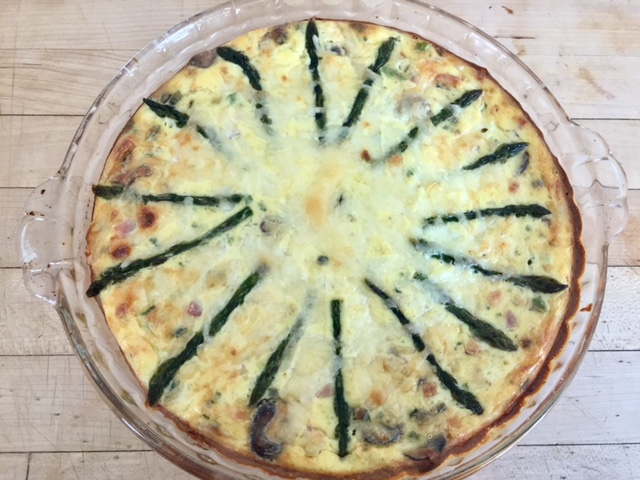 Tadaa! There you have it and yes you can make it the night before. It reheats well covered in foil in a low temperature oven. Or- you can cover the unbaked pie with plastic wrap, refrigerate overnight and then bake it in the morning. Just remember to add extra cooking time when the filling is very cold.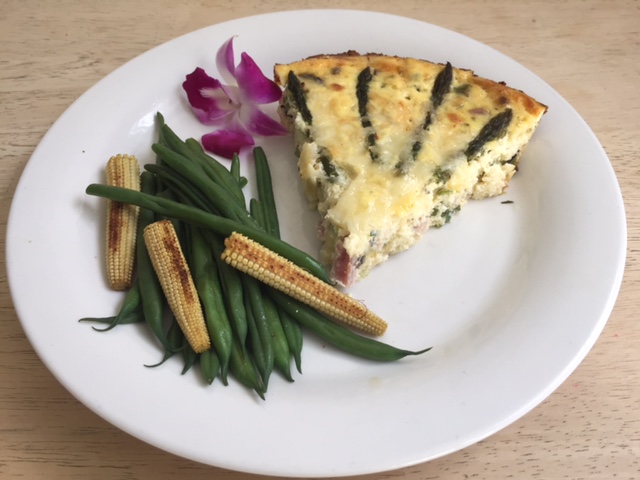 Hope this convinces you to avoid the frazzled crowd and enjoy the morning with Mom!